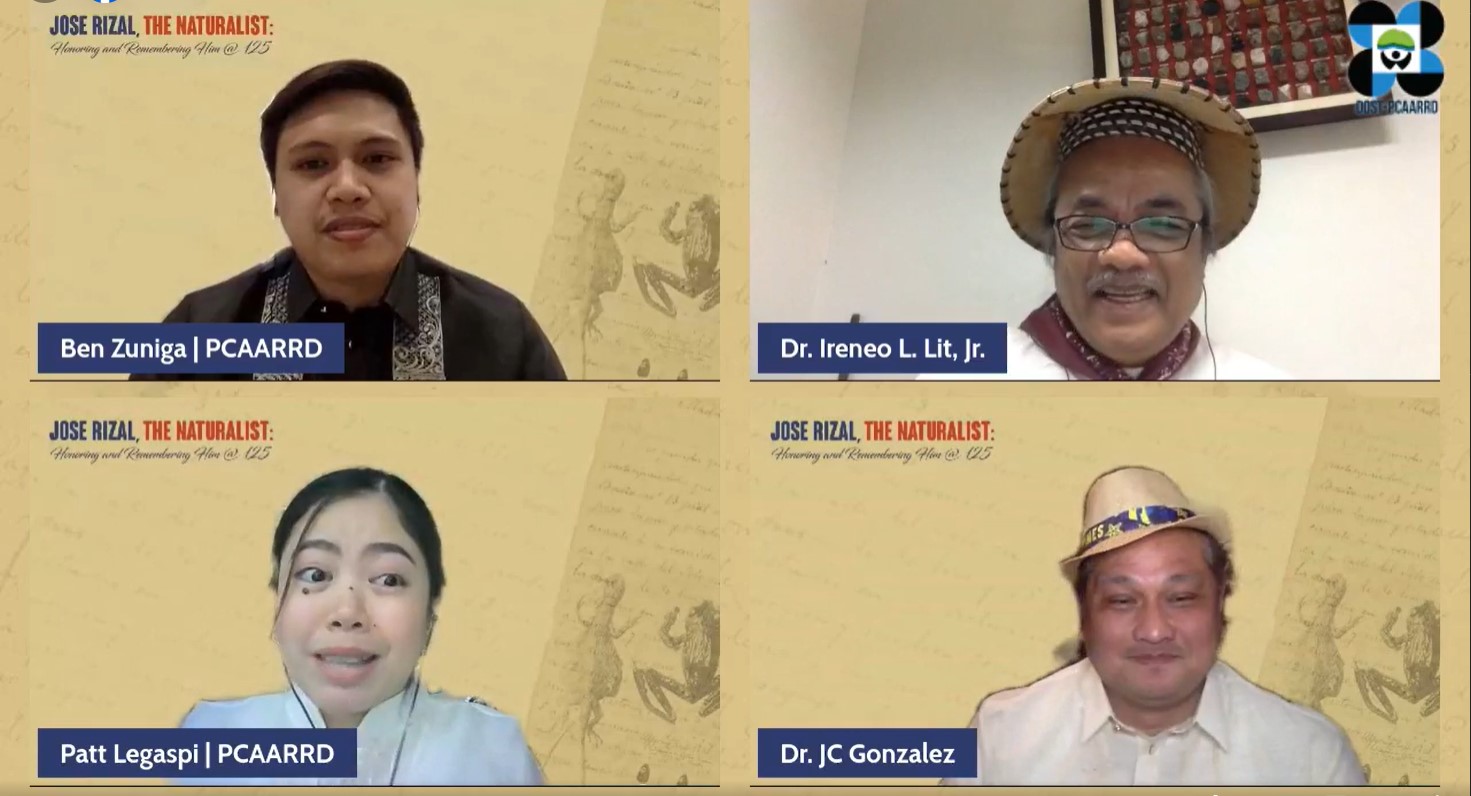 UPLB Taxonomy Experts Commemorate Dr. Jose Rizal as Naturalist
The Department of Science and Technology – Philippine Council for Agriculture and Aquatic Resources Research and Development (DOST-PCAARRD) conducted a virtual scientific conference featuring the life and works of our National Hero, Dr. Jose Rizal, as a naturalist on January 31, 2022 to commemorate his 125th death anniversary.
DOST Secretary Fortunato T. Dela Peña, DOST Undersecretary for Research and Development (R&D) Rowena Cristina L. Guevara, and UPLB Museum of Natural History (MNH) Director Marian P. De Leon underlined their support for the virtual event by giving inspiring messages. DOST-PCAARRD Executive Director Reynaldo V. Ebora also showed his support in the virtual event.
There were two topics presented by renowned experts of their fields: "Foundations of Jose Rizal as a Naturalist" and "Dapitan Exile: Rizal a Naturalist in Practice Part I (vertebrates)" by Dr. Juan Carlos T. Gonzalez, curator of birds at UPLB-MNH and "Dapitan Exile: Rizal a Naturalist in Practice Part II (invertebrates)" and "Inspired by Rizal: Species Named in His Honor" by Dr. Ireneo L. Lit, Jr., curator of mealybugs and scale insects also at UPLB-MNH.
Both resource speakers talked about how Dr. Rizal was exposed to and curious about his local natural environment, from his early childhood years spent in Calamba, Laguna mesmerized by the beauty of Laguna de Bay and Mount Makiling, to his days spent in Dapitan, Zamboanga as a political exile.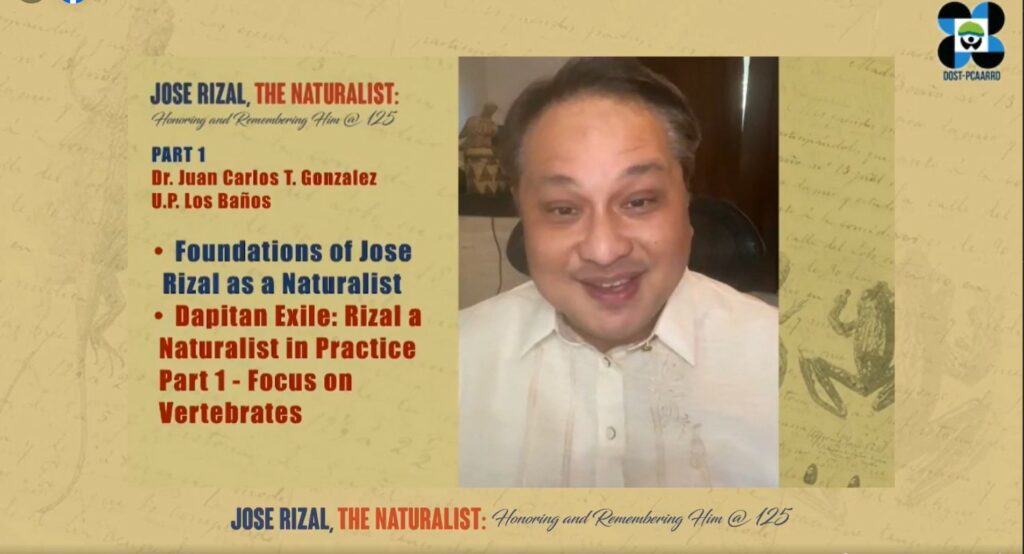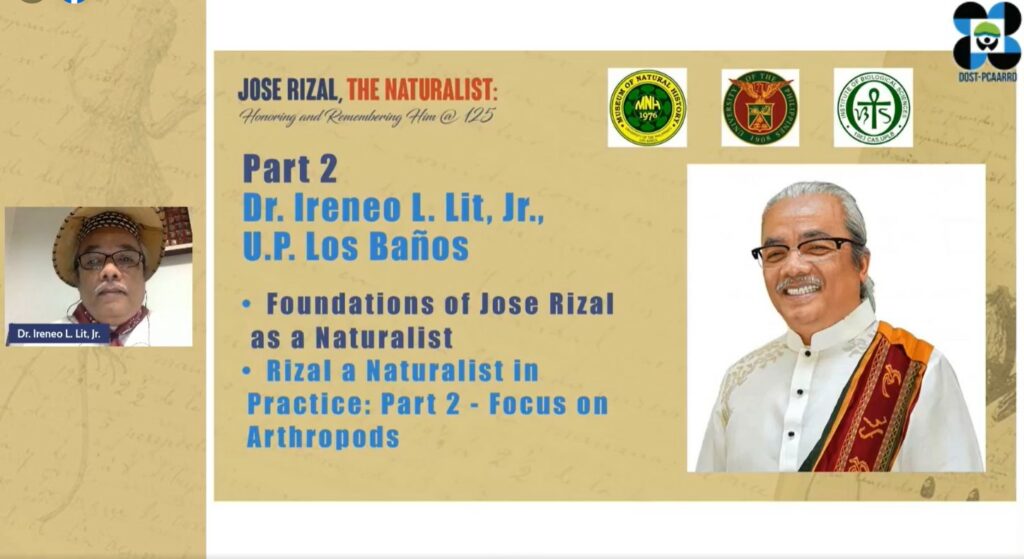 Several unique and fascinating species have been named after our National Hero. Rachophorous rizali is an orange-brown amphibian with blue, white, and yellow spots. Draco rizali is a species of flying dragon with extended wing-like ribs making them able to glide up to nine meters. Entomologists have also honored Dr. Rizal by naming some insects him, namely: Apogonia rizali, a rare small beetle, and Spathomeles rizali, another beetle species known as fungus beetle. Dr. Lit also discussed Cardiodactylus rizali, a cricket named in honor of Dr. Rizal. Another is the Pachyrrhynchus rizali, a type of weevil.
"Just like Jose Rizal, you can be a naturalist. Maganda kung mag-aaral kayo ng biology, zoology, entomology and be a taxonomist kasi kailangang-kailangan natin 'yan," Dr. Gonzalez urged the young members of the audience. While Dr. Lit emphasized that we should learn from our heroes who fought hard to make our society better for all especially the poorest and most vulnerable.
Dr. Jose Rizal have indeed made significant contributions in the field of biodiversity, not only by discovering and studying unique organisms in his time, but also by serving as an inspiration for our youth who can take on the challenge of exploring and showcasing to the world our remaining undescribed living treasures and preserving them to be appreciated by our future generations.
— JMC Castro