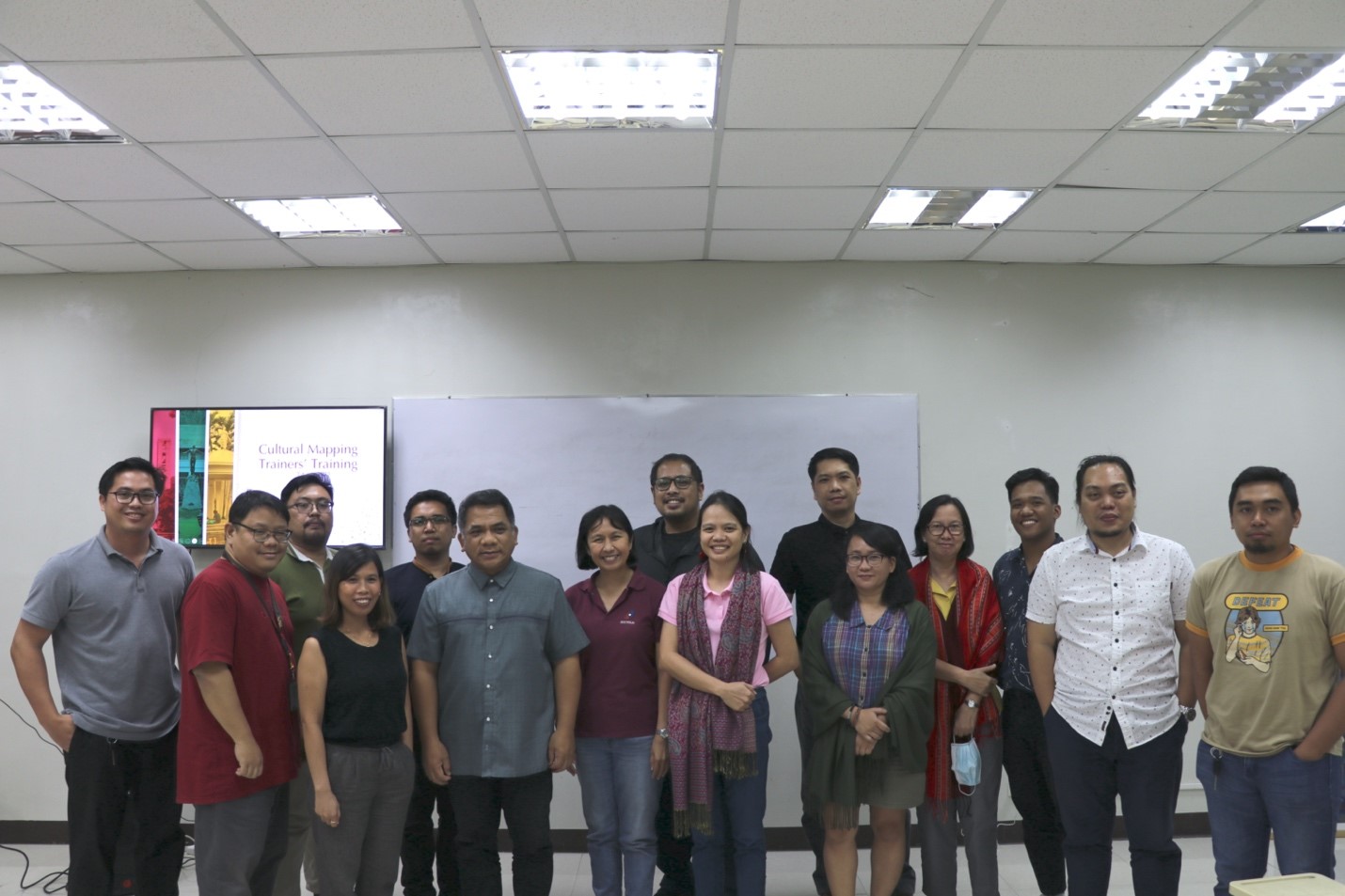 DSS conducts Cultural Mapping Workshop for Faculty
The Department of Social Sciences (DSS) conducted a trainers' training workshop last July 3-6, 2023 to capacitate its faculty on the concepts and practice of cultural mapping.

Ms. Divine Alawiran, from the National Commission on Culture and the Arts (NCCA) served as speaker for the first day of the event. According to her, there is no single definition of cultural mapping. As a process, cultural mapping is complex and multifaceted and starts at the municipal level. Ms. Alawiran reminded the participants that it is important to "identify, record, and use" cultural resources. The mapping process also requires research, for which there are protocols to follow. Ms. Alawiran underscored that consent must be given by the community involved in the cultural mapping activity. Furthermore, mappers must also navigate the dynamics of local politics in the community; one must be aware of the possibility of being identified with local officials. Finally, it is also important to seek and secure a Free and Informed Prior Consent (FPIC) for areas with indigenous peoples' populations.

Asst. Prof. Bernardo M. Arellano III, a history faculty member from DSS and also a program development associate of the UPLB Office of Initiatives in Culture and the Arts, introduced the program and activities that were to be conducted for four days. Asst. Prof. Arellano gave a background on the needs for cultural mapping, especially in Laguna, based on a previous meeting with tourism officers, and also shared how the faculty can engage with academia on this endeavor. Cultural mapping helps stakeholders recognize the significance of historically and culturally significant places in local government units (LGUs), and it determines how these can be disseminated to the public. However, it is important to undergo extensive training before conducting field work and integrating various disciplines. The challenge is to widen the scope of the stakeholders being served, not just the LGUs. Furthermore, as Asst. Prof. Arellano added, prospective cultural mappers must be aware of the various legal instruments on cultural heritage, such as the 1987 Constitution, RA 10066 and RA 10086 as well as the Joint Memorandum Circular 26 of the Department of Interior and Local Government (DILG) and NCCA. However, the country's legal framework for heritage is also influenced by various international agreements, such as the Venice, Burra, Nara, and Philippine Convention Charters. Cultural heritage may be classified into three categories: tangible, movable, and immovable.

Meanwhile, Ms. Alawiran also added that natural heritage, especially those with historical relevance, can be mapped. These places of heritage may encompass areas that are covered and outside the National Integrated Protected Areas System. Natural heritage may also serve as place names, with toponyms derived from flora and fauna endemic to a particular locale. Natural heritage may also cover heritage trees and areas deemed environmentally critical.

The participants conducted field work for days two to four and also answered the Philippine Registry of Cultural Property (PRECUP) forms for tangible immovable cultural heritage and significant natural heritage (July 4); intangible cultural heritage and significant personalities and cultural institutions (July 5) and tangible movable heritage and LGU programs and projects for culture (July 6, 2023). The field work was mainly done on the UPLB campus and nearby areas.

UPLB Chancellor Jose V. Camacho Jr. graced the closing ceremonies on July 6, 2023. Chancellor Camacho reminded the participants to go beyond the walls of the academy and serve the people. In expressing support for some proposed initiatives, such as the microcredential courses and the center on southern Luzon studies, Chancellor Camacho exhorted them to "dream bigger!"

RJ Asuncion