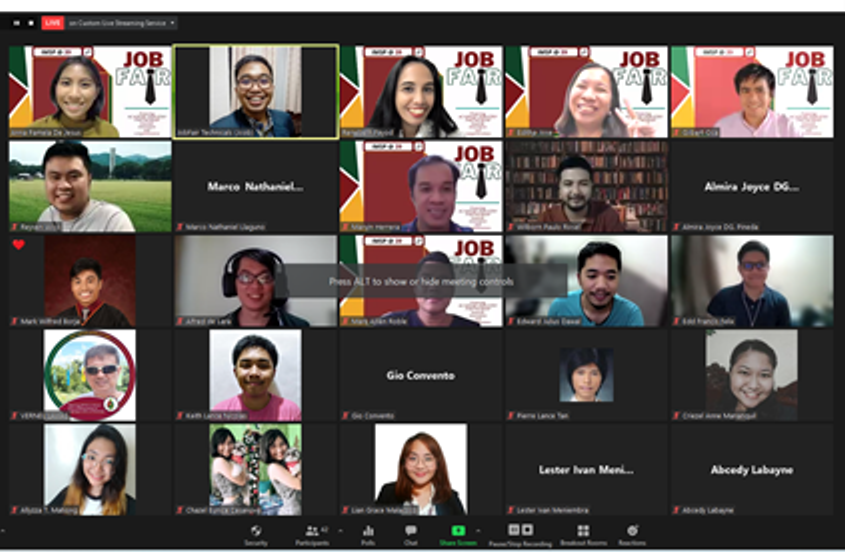 IMSP launches its 1st Virtual Job Fair
In line with the theme "Fostering academe-industry partnership towards innovation and competitiveness", the Institute of Mathematical Sciences and Physics (IMSP) held its first Virtual Job Fair last April 11, 2022. Attended by over 100 participants, this event was part of IMSP's month-long celebration of its 39th founding anniversary as one of the country's six National Centers of Excellence (NCOE) in the Basic Sciences.
Facilitated by Asst. Profs. Renebeth B. Payod and Anna Pamela O. De Jesus, the virtual job fair started with opening remarks from the Institute Director, Dr. Editha C. Jose.
The first batch of speakers, Mr. Von Edward Ebron and Ms. Carmel Torralba, were from the National Reinsurance Corporation of the Philippines (NatRe). They expounded the vital role of NatRe in providing services to various insurance companies in the country and emphasized the skills they needed from an applicant. Ms. Celine Isabel Rodriguez, the second speaker, is a Recruitment Specialist and she delivered an overarching presentation that could be applied by job seekers, not just in the field of Data Science, but to other areas as well. She also shared specific tools that are currently in demand in Data Science positions. It was then followed by Ms. Meliza Mejia from ChinaBank. She talked about their hiring process and emphasized the benefits of being an employee at ChinaBank. Mr. Alfred de Lara, from Lattice Semiconductor, shared the company's well-known products as well as the opportunities for learning and growth in their company. The fifth speaker, Dr. Editha C. Jose, presented the teaching, research, and career opportunities in IMSP. The next talk was from Ms. Jeanette Tubil of Accenture Philippines. She emphasized the role of her company in the world of information technology and software development. The final batch of speakers were from Western Digital Storage Technologies Philippines; Ms. Eva Marie Suministrado, Ms. Trisha Mae Pascasio, and Ms. Janelle Rosales presented their company's culture, innovative products, and hiring process.
After each presentation, the speakers entertained questions from the audience. The job fair ended with a closing remark from Asst. Prof. Gilbert M. Oca, one of the co-chairs of the 2022 IMSP Job Fair Committee.
Through the virtual job fair, students gained insights about the opportunities that await them after graduation. More importantly, IMSP was able to achieve partnerships with the invited companies which would help with the growth of the institute and its students through collaboration and linkages.
— GM Oca