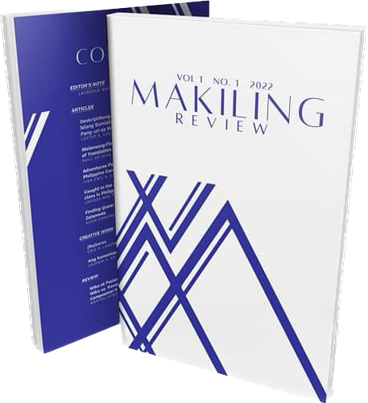 DHUM of CAS releases maiden volume and issue of Makiling Review
By: Hjalmar Punla Hernandez, PhD

As part of the 50th foundation anniversary of the College of Arts and Sciences (CAS), the Department of Humanities (DHUM), with the support of its Research Committee, published the maiden volume and issue of Makiling Review: An International Journal of Humanities. It was released virtually on December 15, 2022, through the journal's website, accessible via https://ovcre.uplb.edu.ph/journals-uplb/index.php/makilingreview/index.

Makiling Review is the flagship peer-reviewed journal of the DHUM, CAS, University of the Philippines Los Baños. It publishes critical and interdisciplinary papers on current problems and discussions in the fields of the arts and humanities in local and international settings. Specifically, the journal accepts research articles, review articles, and creative works on communication, cultural studies, language education, linguistics, literary criticism, literature, media and film studies, performance studies, philosophy, theater arts, visual arts, and other related fields. Its maiden publication features five research and/or critical papers (1. Deskriptibong Pagsusuri sa Gamit ng 'Sobra' bilang Sumisibol na Pampasidhi ng mga Pang-uri sa Wikang Filipino by Lexter A. Castro, 2. Malansang Fish: Mistranslation and the Fact of Translation by Rayji de Guia, 3. Adventures Past Circuits: Sociality in Philippine Conceptual Writing by Ivan Emil A. Labayne, 4. Caught in the Middle: Narratives of Family and Class in Philippine Short Fiction by Larissa Mae R. Suarez, and 5. Finding Queer Optimism in the Art of Oscar Zalameda by Alvin Emmanuel G. Alagao), two creative works (1. (Re)berso by Cris R. Lanzaderas and 2. Ang Kanonisasyon ng Santa Santino by Andrew A. Estacio), and one review article (Rebyu: Wika at Pasismo: Politika ng Wika at Araling Wika sa Panahon ng Diktadura ni Gonzalo A. Campoamor II by Mariyel Hiyas C. Liwanag).

The journal is managed by the following members of its Editorial Team: Dr. Laurence Marvin S. Castillo (Editor-in-Chief), Dr. Jea Agnes T. Buera, Dr. Emmanuel V. Dumlao, Asst. Prof. Pauline Gadget R. Estella (Former Head, DHUM Research Committee), Dr. Hjalmar P. Hernandez, Dr. Mary Cita M. Hufana, Dr. Nicolo M. Masakayan, and Dr. Cheeno Marlo M. Sayuno (Associate Editors); Asst. Prof. Diane A. Manzano (Managing Editor); Asst. Prof. Kahrein A. Salvador (Lay-out and Graphics Editor); and Asst. Prof. Ivan Emil A. Labayne, Asst. Prof. Michael Ian T. Lomongo, Asst. Prof. Jonelle E. Marin, Mr. Marc Stanley I. Mozo, and Ms. Ma. Cassandra Ysobel R. Teodosio (Copy Editors). It is further administrated by Dr. Jacklyn A. Cleofas (Current Head, DHUM Research Committee), Dr. Leonora M. Fajutagana, (Chair, DHUM, 2013-2022), Dr. Katrina Ross A. Tan (Chair, DHUM, 2022-present), and Dr. Maribel L. Dionisio Sese (Dean, CAS).
Makiling Review has the online International Standard Serial Number (ISSN) 2980-4922. Its first cover page was designed by Mr. John Daryl C. Alcantara.