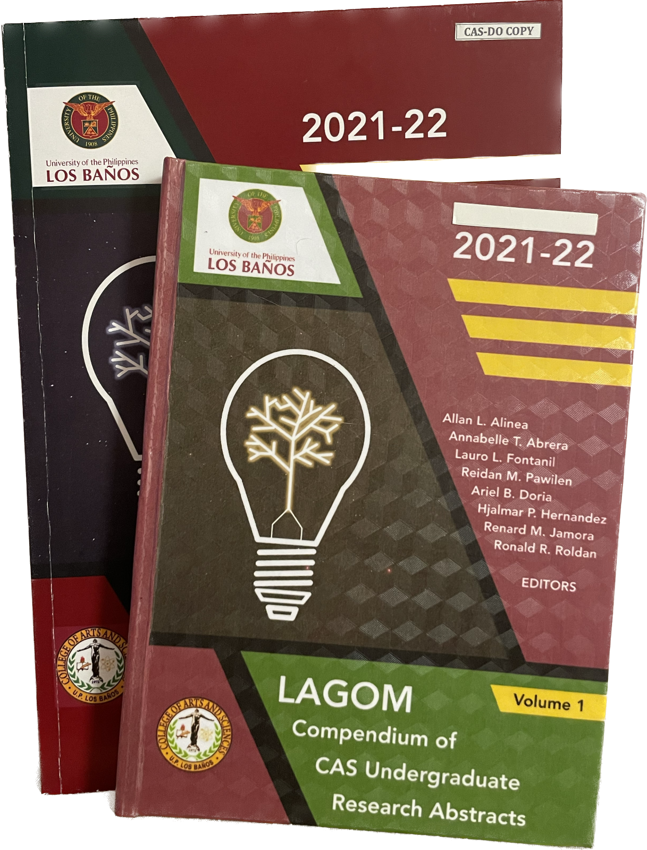 CAS Library and Learning Resources Committee publishes LAGOM Volume 1
By: Hjalmar Punla Hernandez, PhD

In time for the 50th founding year anniversary of the College of Arts and Sciences (CAS), the CAS Library and Learning Resources Committee published the first ever LAGOM: Compendium of CAS Undergraduate Research Abstracts, Volume 1, for Academic Year 2021-2022. It was in print on January 31, 2023, in hard and soft-bound copies.

LAGOM is the brainchild of Dr. Maribel L. Dionisio-Sese, Dean of the CAS. It is a compilation of abstracts of theses, special problems, and creative works authored by undergraduate students from the seven academic units of the College, namely (1) Department of Humanities (DHUM), (2) Department of Social Sciences (DSS), (3) Institute of Biological Sciences (IBS), (4) Institute of Chemistry (IC), (5) Institute of Computer Science (ICS), (6) Institute of Mathematical Sciences and Physics (IMSP), and (7) Institute of Statistics (INSTAT).

The edition and production of LAGOM Volume 1 were led by Dr. Allan L. Alinea, Chair of the CAS Library and Learning Resources Committee. Dr. Alinea also conceptualized the compendium's cover design. The contents of the publication were likewise edited by faculty representatives from the various units of the College: Assoc. Prof. Annabelle T. Abrera (IC), Asst. Prof. Renard M. Jamora (IBS), Mr. Ariel B. Doria (ICS), Asst. Prof. Reidan M. Pawilen, Dr. Lauro L. Fontanil (IMSP), Asst. Prof. Ronald R. Roldan, Jr. (INSTAT), and Dr. Hjalmar P. Hernandez (DHUM). Other committee members, Ms. Danilyn B. Cao (CAS Librarian), Asst. Prof. Ma. Angelie M. Pasicolan (UP Rural High School), Asst. Prof. Selwyn C. Robles (Department of Human Kinetics) and University Extension Associate 1 Arianne Mae L. Magistrado (Technology Transfer and Business Development Office) also significantly contributed to the compendium's successful publication.
On June 5, 2023, the National Library of the Philippines approved LAGOM Volume 1's registration for copyright with the University of the Philippines Los Banos as the copyright owner. LAGOM has the online International Standard Serial Number (ISSN) 2984-7133 and is downloadable via the CAS website link: https://cas.uplb.edu.ph/lagom/.