CAS celebrates 49th anniversary
The College of Arts and Sciences celebrated its 49th founding anniversary last December 21. To mark this milestone, an online recognition and testimonial program honored CAS retirees and outstanding personnel and students.
In her message, Dean Maribel Dionisio-Sese expressed that, "it is the people who man the pillars and portals, and those who pass through them who make academic institutions such as our college, the College of Arts and Sciences, truly great."
— RETIREES —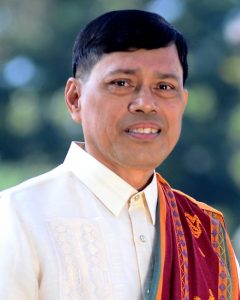 The epitome of a father, Dr. Felino P. Lansigan, has served the university for 43 years. Dr. Lansigan, or "Sir Ino" as he is fondly called by his students and colleagues, made significant contributions to the university. His works in numerous fields of applications of Statistics truly made a mark in UPLB's history and long list of achievements. He truly became an embodiment of honor and excellence by being a very active member of various local and international organizations.
As an educator-researcher, Sir Ino is well-known for his various research on climate change, environmental statistics, and statistical hydrology. His remarkable contributions in the scientific community earned him numerous local and international awards. One of which that he is truly proud of is his Outstanding Teacher Award that was given in 2016. Dozens of undergraduate and graduate students are indebted to his hard work and dedication as an educator and researcher.
His passion for lifelong learning translates to an unimaginable extent of his influence to his former students. Just like Sir Ino, they are now flourishing in their respective fields. Indeed, Dr. Lansigan is an epitome of an excellent mentor.
Prior to his retirement, Sir Ino served as Dean of the College of Arts and Sciences for two consecutive terms. His excellence as the college dean made significant progress in the areas of instruction, research and extension, internationalization, infrastructure, faculty, staff, and student development.
For 43 years, Sir Ino has touched the lives of his students, colleagues, family, and friends. He has been a great inspiration to many. He is truly an embodiment of a great Father, Professor, and a Leader.
— RT Marcelino
---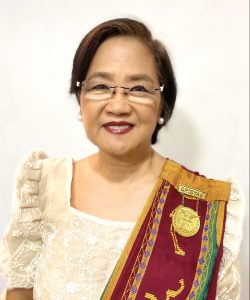 Legitimate concern for students and dedication and commitment to hard work – these two values defined the 43 years of service offered by Dr. Merlyn S. Mendioro. Her retirement last January 2021 marked the end of her professional journey which started in 1978 as a research assistant to a research project for seven years before transitioning to the teaching profession. She retired as the director of IBS and a fully accomplished professor of genetics.
Stellar is an understatement to describe her career as the path she left behind was honorable to emulate yet difficult to rival. Among the many awards she has received throughout her journey, she holds close to her heart her most prized accomplishment as an educator being a two-time awardee of the Outstanding Teacher Award. She has received national recognition in the field of research as well after being awarded the Outstanding Young Scientist award in the year 1995 and the first recipient of the Crisostomo B. and Cristina C. Garcia Annual Award for Excellence. She is currently conferred with the title UP Scientist I which span from 2020-2022. Ma'am Merlyn left behind her mark as part of the teaching force of IBS. Her legacy is close to being uncountable but she will forever be recognized for her involvement in writing the most widely used local genetics book: "Lectures in Genetics" alongside her mentors: Drs. Dolores Ramirez and Rita Laude.
Her time as director of IBS also bore fruits that changed the face of the institute. This includes the opening of the AGA Wing which houses the 2nd floor of the MBB lab along with the bioinformatics lab and many conference rooms along with the refurbishment of classrooms, hallways, and lavatories.
Leaving the portals of GMBD, Ma'am Merlyn entrusts her expertise in the field of cytogenetics to the talented Prof. Joan Adajar-Deriquito. During her retirement, Ma'am Merlyn is still actively involved in advising PhD students while being a full time wife to her husband Louie, and mother to her daughters Katrina and Zsaris and grandmother to her grandson from Paolo, Alfonse.
— ET Galang
---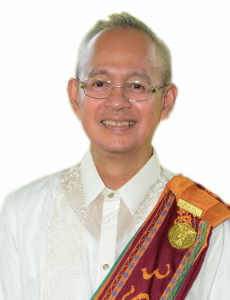 Prof. Ivan Marcelo A. Duka's 65th birthday celebration last January 2021 signalled the conclusion of a very fruitful and outstanding career in the university, spanning more than four decades at the Institute of Biological Sciences. He has taught undergraduate courses in genetics, evolutionary, cell and molecular biology. His main research interests were in the fields of Developmental and Molecular Genetics. He has won a number of teaching awards, including twice for the UPLB Outstanding Teacher Award in the Biological Sciences. He has also garnered the NAST award for Outstanding Published Scientific Paper. Prof. Duka has mentored undergraduate and graduate students majoring in Cell Biology or Genetics.
He is the longest serving College Secretary in the CAS (2012- 2020). He was an active member of the MST Program and for many years, has served as facilitator of the College Seminar on Teaching, guiding incoming faculty to hone their teaching skills. He was actively involved in curriculum development and has developed two G.E. courses, NASC 4 and SCI 11 plus an undergraduate course, BIO 125.
In the transition period for the K to 12 program, he was commissioned by CHED to lead a team responsible for creating a course guide in General Biology 2, now currently used by senior high school teachers all over the Philippines. He has now passed the torch of zeal for teaching, public service, commitment to discipline, and love for country and the University to his former advisees who are now doctors, lawyers, scientists, and teachers.

He now enjoys his retirement by reading fast action novels and watching award-winning movies. He plans to continue travelling the continents after the pandemic.
— ET Galang
---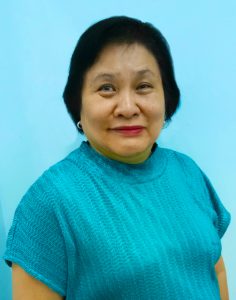 Dr. Milagros M. Peralta retired this year as she celebrated her 65th birthday on April 22. For the past four decades, Dr. Peralta (pleasantly called as Ma'am MMP or Ma'am Mila by her students and colleagues) has fruitfully served the Institute of Chemistry and the whole UP Los Baños community in terms of academic, research, extension, and administrative works.
Dr. Peralta finished BS Agricultural Chemistry in 1978 (cum laude) in UP Los Baños and MS Agricultural Chemistry in 1982 in the same university. In 1991, she obtained her Ph.D. in Chemistry in Texas A&M University, Texas, USA.
Throughout her professional career, she has published many articles in ISI publications and refereed journals about her expertise in the applications of Organometallics, Organic Synthesis, and Nanotechnology. She also contributed to writing policy paper about the Applications of Nanotechnology in Food and Agriculture which was commissioned and adopted by Department of Science and Technology (DOST).
In 2016, she received the UPLB Centennial Professorial Chair Award. Some of her distinct awards include UP IDI Award for Iron-Modified Nanosilica Powder and Aerogel Beads For Arsenic Removal In Contaminated Water (2018), One-UP Centennial Prof Chair Award in Organic Chemistry for Teaching and Research (2016 – 2018), and KKP-ST Distinguished Achievement Award in Teaching (2016) and in Research (2003).
Dr. Peralta was appointed as IC Director from 2009 to 2012. During her time, she spearheaded the splitting of bottleneck courses into separate lecture and laboratory classes. As a senior faculty member, she developed CHEM 173 (Introduction to Polymer Chemistry) undergraduate course and proposed two graduate courses: CHEM 225 (Organometallic Chemistry), and CHEM 244 (Organic Synthesis). Aside from her contributions at IC, she served as the Project Leader of UPLB Nanotechnology Program (2009 – 2021), a member of Student Disciplinary Tribunal (SDT) (2012 – 2017), a member-at-large of UPLB Executive Committee (2015 – 2016), the Parent Juror of SDT (2001 – 2004), and the College Secretary of CAS (2001 – 2004).
— RP Parakikay
---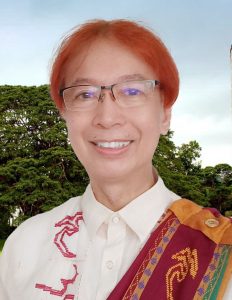 Assoc. Prof. Emmanuel A. Florido served the Institute of Mathematical Sciences and Physics (IMSP) for almost four decades. He was one of the senior faculty of the Institute to remain in service from the establishment of the BS Applied Physics program. Having been trained in optoelectronics in Macquarie University, Australia, Assoc. Prof. Florido helped establish linkages with the electronics industry in the Philippines and several laboratories in Thailand and Taiwan.
Fondly called Sir Emman by colleagues and students, he exemplifies many attributes that are fitting not just in the sciences but also in the arts. Sir Emman is one of the most artistic and musical faculty in IMSP. He is a constant performer in many events in the University. On occasions, he would serenade his lecture classes singing his favorite song, 'I Will Be Here'. His colleagues make him a constant companion in Karaokes to unwind.
Assoc. Prof. Florido is very prolific in research with his expertise in materials science and instrumentation. He worked on sensors using nanomaterials to detect gases under DOST-funded projects. He also mentored many Applied Physics students.
He is known for being strict with students with much reflection from the students that it is essential training for the future. We know that there will be more meaningful years for Sir Emman because he maintains being cheerful, well-rounded, and healthy. Padayon Sir Emman!
— AKG Tapia
---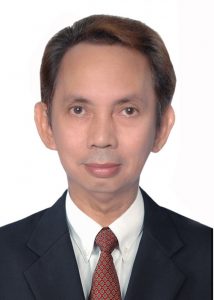 Dr. Roberto C. Reyes or Sir Bobby retired in March 2021, capping a 38-year service in the University that began in 1983 as an Instructor for Zoology.
Sir Bobby graduated magna cum laude in the University of the East, took his Masters in UP Diliman and obtained his Doctorate of Natural Sciences from the University of Hamburg in Germany.
His immense contribution to science includes his extensive research in Sericulture from 1995 to 2003 as well as his works on the biology, conservation, and culture of indigenous and ornamental fishes during his time as the Station Manager of Limnological Station from 1997-1999.
He has developed a total of 13 lecture guides/syllabi and three laboratory manuals and taught more than 16 different courses under the Animal Biology Division. He surely did touch the lives of his students and peers after his more than three decades of passionate service in the University. Dr. Reyes' dedication, excellent service, and wisdom will be missed and shall serve as inspiration for everyone.
— JM Castro
---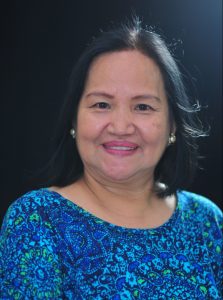 DHK's Queen of Chess and folk dance matriarch Jovita S. Dela Cruz has joined the ranks of esteemed CAS faculty retirees. Known affectionately as Mam Jovy to her colleagues, students, athletes, and organization, she has truly maximized a wonderful and meaningful career at UPLB. Ma'am Jovy has been successful in the diverse facets of the department.
In Sports, Mam Jovy has successfully coached the UPLB Chess Varsity. Her team was a perennial podium finisher in regional tournaments and even boasts of National Champions in the STRASUC tournaments. As an athlete herself, Ma'am Jovy is also credited with the multiple championship of the CAS Table Tennis Team.
In the field of Dance, she spearheaded the Sandayaw Organization. The group is known for performances that showcase Philippine folk dance and cultural reflections. Ma'am Jovy also boasts of numerous national and international researches and paper presentations.
Alongside all these accolades, Ma'am Jovy has always served as a dedicated faculty of the DHK and taught across the fields of Sports, Dance, and Leisure. Her expertise across these numerous fields coupled with her motherly nature has both educated and inspired the UPLB students to strive for a life geared towards optimal health and fitness.
DHK and the whole of the UPLB community are truly blessed with the tremendous career of our dear Ma'am Jovy Dela Cruz. The DHK family will always strive to follow her great example and will definitely have big shoes to fill.
— MA Salangsang
---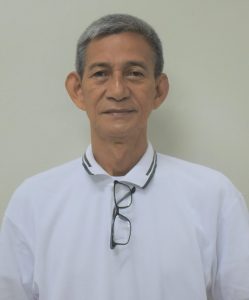 For 44 years, Mr. Gregorio P. Roselada, which the faculty members refer to as Mang Greg, has been one of the reliable people in the Institute of Mathematical Sciences and Physics or IMSP. He started working at the university last May 23, 1977 and he retired as Administrative Aide III.
We often see Mang Greg very early at the Physical Sciences Building, specifically the Director's Office since he was in-charge with its maintenance. He handled his tasks with speed, but he did his job neatly and consistently. Students and faculty members also see him a lot in the Physics lecture and laboratory rooms.
Aside from the maintenance tasks, Mang Greg was a consistent member of the Physical Arrangements Committee at the IMSP and College of Arts and Sciences (CAS) during foundation events.
— JC Duero
— AWARDEES —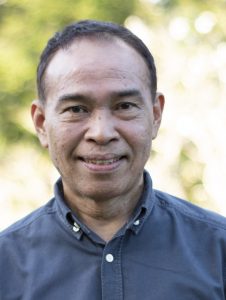 Dr. Inocencio E. Buot, Jr. is hailed as the 2021 CAS Outstanding Senior Researcher for his excellent work in the field of plant sciences.
Dr. Buot Jr. began his teaching and research career at the Institute of Biological Sciences in 1998 after obtaining his PhD from the University of Chiba. He currently holds the highest faculty rank, Professor 12, and has been a UP Scientist since 2009.
He has led several research projects, and has published over 200 articles in peer-reviewed journals, as well as having co-authored 10 books and 13 book chapters.
He has also advised several undergraduate and graduate students conducting research about plant ecology and systematics.
Hoya buotii, a species of Hoya described by an American taxonomist in 2002, was named in his honor.
— AL Rayos
---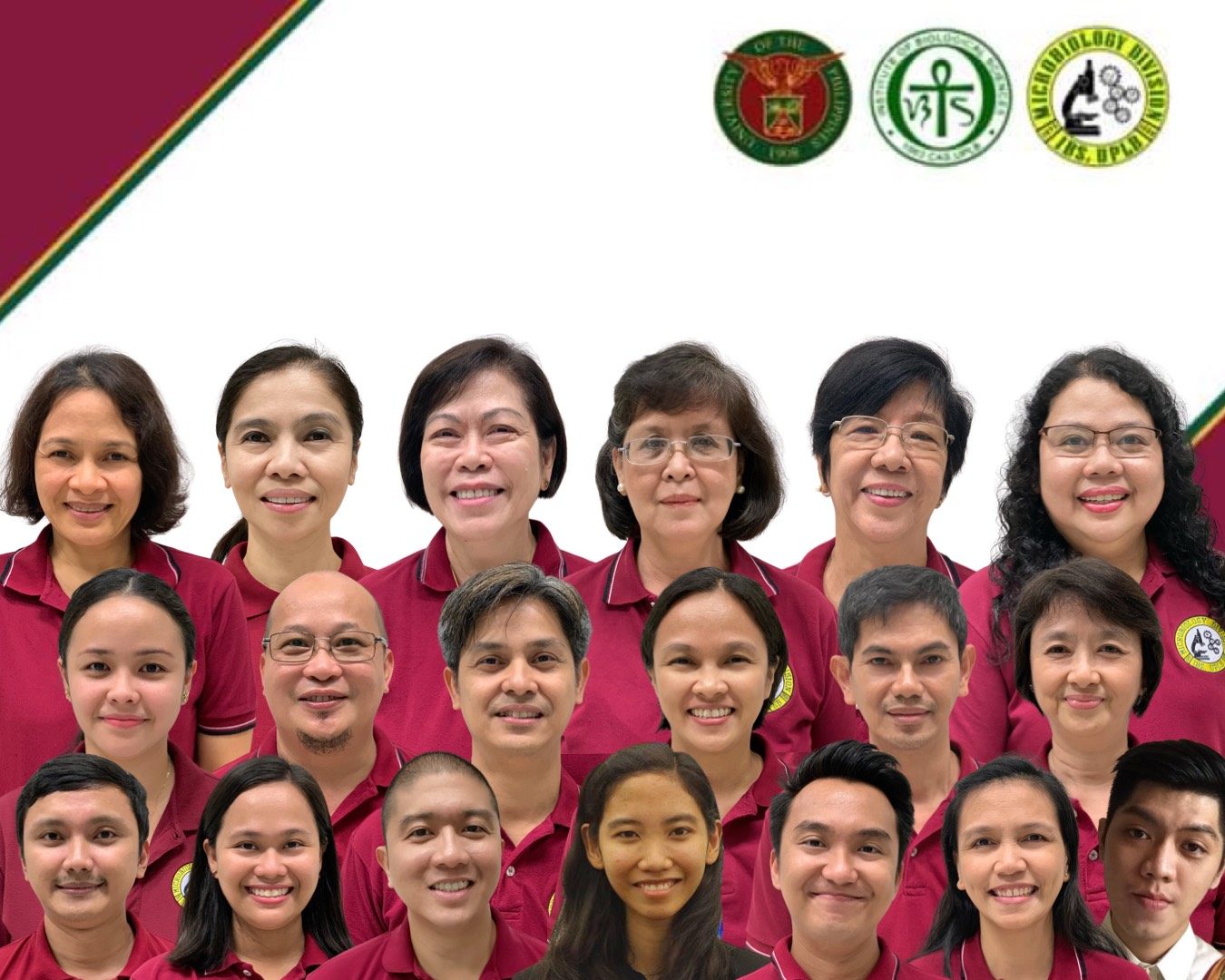 The College has recognized the Microbiology Division-Institute of Biological Sciences (MCBD-IBS) Microbial Diversity and Biotechnology Research Team, as this year's Outstanding Research Team, for the team's consistent, untiring, and committed efforts to promote and enhance the appreciation for microbiological research in the Philippines; for uncovering by way of research and highlighting for public awareness and conservation the richness, diversity, and complexity of microbial life in various Philippine ecosystems and natural habitats; and for discovering the deeper basis of metabolic diversity by analysis of the genomes, and unraveling the biotechnological potentials of the members of the microbial realm with the ultimate goal of serving the national good.
This award is given annually to a CAS Research Team who has numerous significant contributions in their respective fields. The team aims to study the microorganisms in their ecosystem and their respective roles and applications. Microbial diversity gives us insights into the microbial community (e.g. bacteria, archaea, protists, and fungi) present in an environment and the possible roles that they play, while biotechnology utilizes microorganisms (e.g. natural, laboratory-selected mutant, or genetically engineered strains), to obtain an economically valuable product or process that could eventually be developed at a large scale.
The research team is actively seeking collaborations with local and international experts and stakeholders. The young researchers in the field are also being mentored in the programs and projects that the members are leading or involved in. The members of the team regularly participate in conferences and organize local, national, and even international seminars, to promote scientific knowledge in the field of Microbiology and other related fields.
From 2018, the team has been involved in 17 research projects, published 60 articles in peer-reviewed journals (SCOPUS- and Web of Science-listed) and presented 40 papers in local and international conferences. Several recognition and grants were also awarded to the members.
— JD Ong
---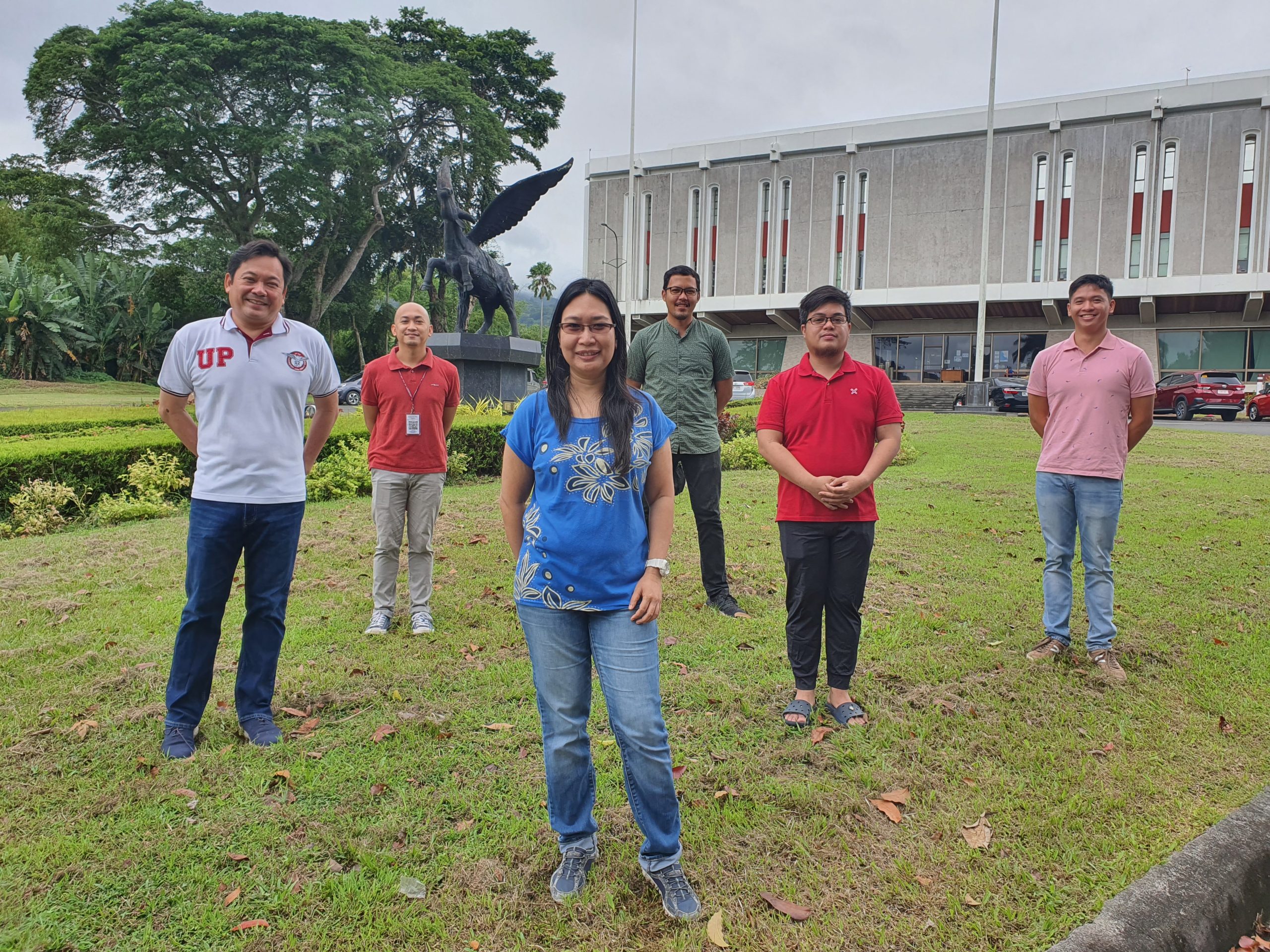 This year's recipient of the CAS Outstanding Extension/Public Service Team Award is the Aquatic Zoology Research Laboratory (AZRL) of the Animal Biology Division, Institute of Biological Sciences (IBS). Established in 2016 by Dr. Victor Ticzon, who is the head of the lab, the AZRL consists also of researchers such as fellow IBS faculty member Dr. Maria Eleanor Aurellado and research assistants Kent Elson Sorgon, Marion Michael Bacabac, Jesus Gabriel Fetil, and Estephan Fortela. AZRL was created to serve as a research and learning laboratory for both faculty and students interested in working on aquatic ecosystems. The lab conducts various national and regional biophysical assessments of marine habitats, most especially coral reefs.
As part of the lab's capacity-building activities, AZRL has developed training manuals for coral reef assessment and regularly conducts short courses on reef fish ID training, which have supported stakeholders in marine resource management and national policy formulation.
The AZRL has collaborated with various partners such as Oceana Philippines, other academic institutions, various LGUs, and national government agencies such as DENR and DOST. As a direct service to the University, the lab provides funding support for both graduate and undergraduate student research, including the presentation of results in national conferences.
The lab continuously conducts research that focuses on ecosystems monitoring, assisted rehabilitation, and capacity building, which would be important for crafting and implementing management strategies of aquatic resources. Among the significant scientific contributions of AZRL is their involvement in a national program by DENR that assessed the effectiveness of the NIPAS marine protected areas in enhancing fisheries resources, the findings of which was published in March 2021.
Currently, the AZRL is working on a project that aims to investigate methods that can assist coral rehabilitation in areas that have experienced physical damage from storms such as Apo Reef Natural Park. Dr. Ticzon plans to build a long-term database on key biophysical parameters on Philippine reefs and establish strong partnerships with stakeholders. He hopes that the data collected can translate to responsive management policies that can support and enhance the resilience of coastal ecosystems such as coral reefs.

— MEB Aurellado
---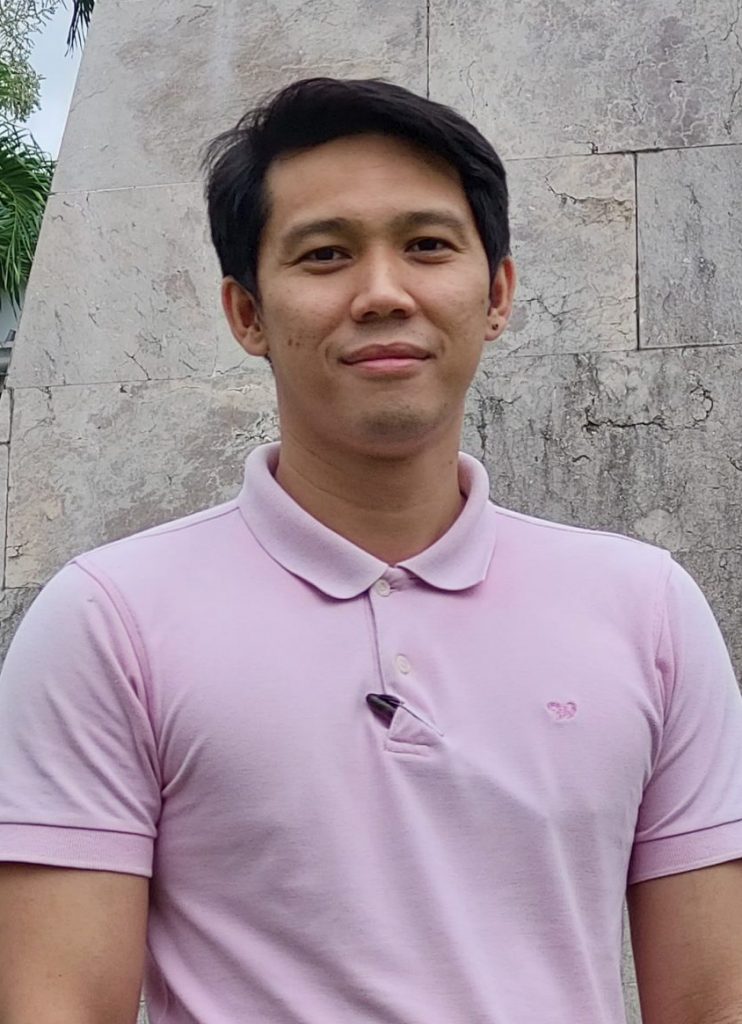 Mr. John Leonell A. Vargas, also known as Kuya Nel, is this year's recipient of the CAS Outstanding Administrative Personnel Award (Technician/Craftsman Category). He started working in the university last 2018 as a Laboratory Technician, becoming one of the most dependable administrative personnel in IMSP. The faculty instantly liked his work attitude and amicable personality. His main responsibility is to assist students and faculty on computer and network related concerns. In addition, he serves the Math Division as personnel in charge of payments and reimbursements of the faculty.
In the first half of 2020, he was given an additional assignment by designation without additional compensation as Administrative Assistant I of the whole Institute. This is to continue the function vacated by a retired staff. Even though Mr. Vargas does not have any background in processing procurement documents, he wholeheartedly accepted and innovatively learned the nitty-gritty of the tasks along the way. Until now, he takes charge in the procurement of computer, laboratory, and infrastructure-related items.
Recently, in the renovation and repair of rooms and lecture halls of the Institute, he processed the procurement papers related to them and supervised the area of work.
He says that the secret for his excellent performance is getting along with his workmates and bosses well. He believes that this results in a better harmony in a workplace which makes him more efficient in his job. Aside from that, his wife and two daughters motivate him to work hard and manage his tasks effectively to the satisfaction of the people around him.
— JE Casquete
---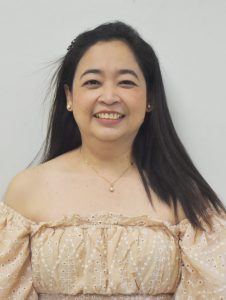 Ms. Rhona F. Anenias is awarded the 2021 CAS Outstanding Administrative Personnel (Office Personnel Category) for her notable performance and outstanding accomplishments as Student Records Evaluator (SRE) of more than 900 students per academic year in the BS Computer Science and BA Sociology degree programs.
Tita Rhona, as she is fondly called by students and co-workers alike, has been in service to the university for 10 years. She joined the CAS-OCS in July 2011 and is currently holding the position of Administrative Officer II.
Her tasks include managing student records, filing confidential academic data, handling computer-related tasks such as the Student Academic Information System (SAIS), facilitating pre and post-registration needs as well as the graduation requirements of students, and preparing data/reports requested by units under CAS. She also handles the processing of student application forms like overloading, underloading, dropping of subjects, waiver of prerequisite, plan of study, student assistantship, GE plan of study, removals/completion permits, true copy of grades, various certifications, student loans, and scholarship requirements.
In addition, she provides assistance to the graduating students by preparing their checklists, updating their records, and processing their deficiencies. She is also responsible for identifying possible candidates for graduation and finalizing the list of the candidates for graduation under her assigned degree programs.
What makes Tita Rhona stand out is that she has no backlogs despite the volume of her work and she never fails to render her services with courtesy and respect. She responds promptly to students' requests and submits requested documents on time. She uses po and ho when communicating in her native tongue and makes use of appropriate language and conventions in emails. She is also approachable to everyone and always willing to help.
Tita Rhona's commitment to excellence and selfless concern for others goes beyond the four walls of the office. She attends seminars/training and is also actively involved in community activities and volunteering. Her commitment to improvement, selfless concern for the welfare of other people, and passion to bring positive change make her most eligible for the award.
— GH Lozano
---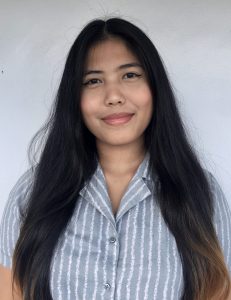 Ms. Louise Gabrielle L. Talip, this year's CAS Outstanding Student in the Sciences, is a senior BS Computer Science student active in academics and extracurricular activities. Her research interests in computer science are Big Data, Cybersecurity, Artificial Intelligence, and Social Engineering. She is also proficient in different programming languages and web development tools.
She participated in different local, national, and international programming and debate competitions where she bagged several awards, including being a two-time consecutive grand finalist for the Algolympics event organized by the Association for Computing Machinery – UP Diliman Student Chapter, Inc. in 2020 and 2021. Her paper entitled "Examining SONA 2020 – Related Tweets Through Sentiment Analysis" was presented at the Linguistic Society of the Philippines International Conference (LSPIC 2021).
Apart from academics, she is also a proud member of the Alliance of Computer Science Students UPLB, where she serves as the Head Developer for Logistics and Public Affairs for the academic year 2021-2022. She is also the Head of the Ministry of Education, Training, and Skills of The Parliament: UPLB Debate Society from 2019 up to the present.
— AC Guiam
---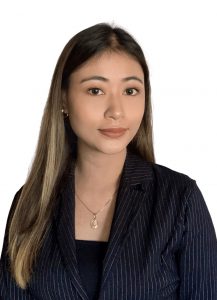 At a time of rapid, unprecedented change, the UPLB CAS Outstanding Student is all the more expected to strongly demonstrate honor and excellence in leadership, scholarship, and service. This year, these qualities are best exemplified by BA Communication Arts Senior, Ms. Jamie Nicole S.B. Millan, the recipient of the CAS Outstanding Student in the Arts Award.
Inspired by solid academic backgrounds in primary and secondary school, Ms. Millan has been able to maintain exemplary scholastic standing in college as a BACA student. Enriching this record is her involvement in various co-curricular and socio-civic activities aimed at fulfilling her advocacies in education, gender equality, and civic awareness.
Ms. Millan's deep commitment in learning speech communication theories and principles allowed her to cultivate skills and initiate efforts relevant to the larger practice of rhetoric and discursive participation. She is a resident member of The Rhetoricians: The UPLB Speech Communication Organization, and has recently been recognized as Outstanding Rhetoman. Currently, she manages the Organization's Reconnect PH, a project that caters to select Filipino students in need of financial support to meet the demands of online learning.
In addition, Ms. Millan expands her experience in furthering civic awareness and social responsibility by holding leadership roles in the UPLB Pre-Law Society. Apart from this, she also does volunteer work for various local, regional, and national groups and activities such as the Republic Scholars and Alumni Association (2019-present), DEPED Division of Antipolo and Diocese of Antipolo Commission on Migrants and Itinerant People's Turo Mo, Kaalaman Ko (2020 to present), Laraw Sa Isla's Project E-SkwelaJUAN (2020), and ASEAN Youth Cares (2020).
Among her other notable achievements are being awarded Outstanding Municipal College Scholar by the Municipality of Teresa, Rizal in September (2021), and being a paper presenter during the Speech Communication Organization of the Philippines' 31st National Research Conference in 2019.
Ms. Millan's consistent competence and dedication amid challenges and changes confronting the University and society reflects the UPLB CAS Outstanding Student's undeterred spirit.
— KA Salvador