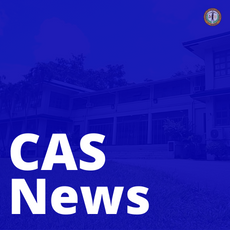 The College of Arts and Sciences held the 14th Student-Faculty Research Conference (SFRC) last November 29 and December 6. This year's conference, which was held virtually, had the theme "Onwards to [email protected] and Beyond: For a More Resilient Research Future in the Arts and Sciences."
The two-day event featured a keynote speech from Dr. Richard Burgos of the Department of Science and Technology. Plenary talks were delivered by Dr. Jhalique Jane Fojas of the Harvard Medical School, Dr. Mary Racelis of the Ateneo de Manila University, Dr. Lourdes Cardenas of the Institute of Biological Sciences, UPLB, and Dr. Kate De Jesus of the Department of Humanities, UPLB.
Paper presentations were featured into clusters namely Biological and Environmental Sciences, Humanities and Social Sciences (2 sessions), Physical Sciences, and Biomedical Applications, as well as a virtual gallery of poster presentations. Best paper awardees were awarded during the second day.
This year's conference was headed by the event's ad hoc committee chair, Dr. Rina Opulencia.
2021 CAS SFRC Awardees
Best Oral Paper in Arts, Humanities, and Social Sciences
First Place: "Understanding the Rhetoric of #Lugawisessential: An Analysis of Visual-Verbal Posts on Facebook" by Mary Diane A. Duran, and Mark Oliver S. Llangco
Second Place: "Mothers Know Best: Effect of Filipino Women's Socio-Demographic Characteristics and Media Exposure to the Vaccination of Children" by Nancy M. Landicho
Third Place: "Demystifying National Security in Animé: Exploring the Construction of State Terror and Propaganda in Code Geass, Psycho-Pass, and Attack on Titan" by Reya Mari S. Veloso
Best Oral Paper in Biological, Mathematical, and Physical Sciences (Undergraduate Category)
"Pneumonia detection from chest x-ray images using support vector machine" by Melrose S. Tia, Lei Rigi Baltazar, Ranzivelle Marianne Roxas-Villanueva, Beatrice Tiangco, Ethel Dominique Viray, and Jason Albia
Best Oral Paper in Biological, Mathematical, and Physical Sciences (Junior Staff Category)
First Place: "In vitro antimicrobial potential of isopropanol extracts of novel actinomycete Streptomyces sp. strain A1-08 in some medically important pathogens" by Kristel Mae P. Oliveros, Albert Remus R. Rosana, Rina B. Opulencia, and Asuncion K. Raymundo
Second Place: "Taxonomic and functional metagenomic profiling of the soil microbial community in a forest-over-limestone ecosystem using shotgun metagenomics" by K. K. M. P. Gonzales, N. B. Lantican, E. B. Geronimo, J. D. P. Ong, and M. P. Balolong
Third Place: "Preparation, characterization, and antimicrobial activity of ZnO-embedded filter paper prepared via microwave-assisted two-pot in situ assembly method" by Genne Patt O. Samar, Alvin Karlo G. Tapia, Chrysline Margus N. Piñol, Ma. Lourdes F. del Mundo, Nacita B. Lantican, Ronniel D. Manalo, and Marvin U. Herrera
Best Poster Paper
First Place: "Deep transfer learning approach for liver disease detection using ultrasound images" by Desiree Anne Villanueva, Lei Rigi Baltazar, Ranzivelle Marianne Roxas-Villanueva, Beatrice Tiangco, Ethel Dominique Viray, and Jason Albia
Second Place: "Crushed Coconut (Cocos nucifera) Shells as Filler to Sand in Mortar for Reduced Compressive Strength and Better Water Retention" by Carl Audric G. Guia, Frances Ashley D. Celerio, Dala Malaya R. Sosa, and Paul Christian D. Mundin
Third Place: "Makahiya (Mimosa pudica) Extract as an Alternative Agent Against Mosquito Eggs" by Allexa Danielle Dr. Dimaranan, Vivien Angel M. Gonzales, Aliya Jeal B. Isidoro, Erin Lois M. Punzalan, and Patricia Yohannes G. Utanes
— LMS Castillo