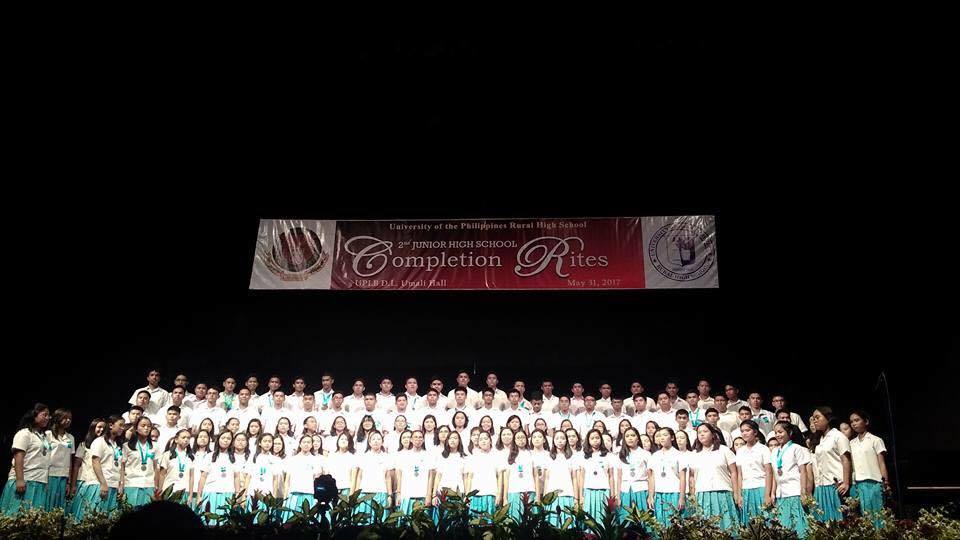 UP Rural High School (UPRHS) held its "Moving up" ceremony at the UPLB DL Umali Auditorium last May 31. The program formally started with the processional, the entrance of colors, and the singing of the National Anthem, led by the UPRHS Glee Club and a few select Grade 10 candidates for completion. An opening prayer was then given by Carlos Lowel Alvarez, a student graduating with honors.
Prof. Liza C. Carascal, principal, led the official start of the ceremony as she presented the 121 candidates for graduation to the Dean of College of Arts and Sciences, Dr. Felino P. Lansigan, who confirmed the completion. Diplomas were then given to the students.
Prof. Aphrodite M. Macale, a faculty member of UPRHS, introduced the guest speaker for the said event, Mrs. Alfinetta R. Bustrillos – Zamora, Golden Jubilarian Class of 1967. Prof. Carascal and Dr. Lansigan handed the plaque of appreciation to Mrs. Zamora.
Dr. Portia G. Lapitan, Vice Chancellor for Academic Affairs in UPLB, then gave an inspirational message. Medals were awarded to the 32 Honor "Completers, with Dean Isaiah L. Cruz, Carlos Lowel E. Alvarez, James Matthew G. Borines, Luke B. Gealogo, and Daniel Emile F. Ching as the top five honor students, respectively. After the awarding of medals, Cruz, the student who graduated with the highest average, delivered his valedictory speech.
Mr. Augustus Ramos IV of Class 1968 and representative of the UPRHS Alumni Association, Inc., led the induction of the completers to the said association. The Golden Jubilarians (1967) and Silver Jubilarians (1992) were given certificates of appreciation for their presence in the said event. Ending the ceremony was Junior High School Completers' singing of "How Far I'll Go", led by Prof. Marife R. Maquera.
Prior to the said completion exercises, the UPRHS recognized students who showcased outstanding academic and co-curricular achievements during the Gawad Parangal 2017 held at the UPLB D.L. Umali Auditorium. Recognition was given to those who actively participated in co-curricular activities, as they were presented with the Gawad Ko-Kurikular, which includes the Natatanging Gawad Panday Dunong, Gawad Panday Dunong, Gawad Lingkod, Natatanging Gawad Lingkod, and Gawad Unlad-Ugnay.
Gawad Kagandahang Asal was given to four students: three from Grade Seven and one from Grade Nine. For the academic field, Cruz, the class valedictorian, was given the Academic Excellence Award. He also received the Dr. Leonido R. Naranja Academic Excellence in Agriculture, along with Frances Ann J. Aguda, and was awarded Best in Social Studies and Best in Life Skills Education A.
The program ended with the awarding of Gawad Akademiko to honor students from grades seven to eleven. Lastly, the top students of each batch were awarded: Andrew Thomas Mercado, Alexandra Heinrich Marco, Mariko Tsuji, Dean Isaiah Cruz, and Mariella Aubrey Gancia. An address of gratitude from Carlos Lowel Alvarez (Grade 10, Rank 2) ended the ceremony.
By Jenny Flor S. Baclor