Online Processing of Modified Form 26
FOR CAS STUDENTS WHO WILL PREROG TO SUBJECTS OFFERED BY CAS
Ask the approval of the faculty-in-charge (FIC) by sending an email. To identify the name of the FIC, you may log-in to SAIS and search for the specific course and section or you may ask the unit/department offering the subject.
Accomplish the Modified Form 26 for adding subject(s) and send it to the concerned FIC for validation.
Upon receipt of the email, the FIC will:
– validate the form (e-signature is permitted)
– return the validated form to the student (cc: Unit Registration Committee)
The Unit Registration Committee will give you the permission to enlist the subject in SAIS. Once permitted, you should enroll the subject(s) thru SAIS.
Once all additional subjects were validated, submit the form to the email address of your respective subject record evaluator (SRE).
BASOC, BSCS -> [email protected]
BAPHLO, BSBIO -> [email protected]
BACA, BSMST, BSSTAT -> [email protected]
BSAM, BSAP, BSCHEM, BSMATH, BSAC -> [email protected]
FOR NON-CAS STUDENTS WHO WILL PREROG TO SUBJECTS OFFERED BY CAS

Ask the approval of the faculty-in-charge (FIC) to prerog a subject by sending an email.
Get a copy of Modified Form 26 from your home OCS and accomplish the form.
Submit the form online to your home OCS for counterchecking.
Send the checked form by your home OCS to the concerned FIC for validation
Upon receipt of the email, the FIC will:
– validate the form (e-signature is permitted)
– return the validated form to the student (cc: Unit Registration Committee)
The Unit Registration Committee will give you the permission to enlist the subject in SAIS. Once permitted, you should enroll the subject(s) thru SAIS.
Once all additional subjects were validated, submit the form to your home OCS.
Reminders:
– The list of CAS Units offering various GE subjects is provided below. Please be guided accordingly.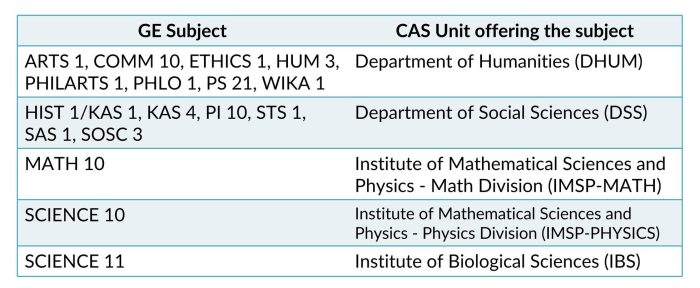 SAMPLE OF ACCOMPLISHED MODIFIED FORM 26:
– Students should avoid using multiple email addresses with the same message content and must follow the suggested email subject line. This is for the purpose of easy filtering of student's request and concerns.
– All students are required to use UP mail accounts only.
– Attachment in filing Modified Form 26 and other CAS-OCS online forms should not require "request for access". Otherwise, your online forms will not be opened and be processed.