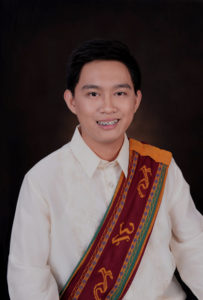 A BS Biology student will graduate as the valedictorian of the College of Arts and Sciences with a GWA of 1.2566. Glenn Aldrix Anarna, major in Plant Systematics, will give the valedictory address during the CAS Testimonial Program on June 21, 2017 at D.L. Umali Auditorium. During his four years in UPLB, Glen was a consistent top-notcher in his batch: he was a consistent recipient of the CAS Academic Excellence Award.
In June 2016, he was inducted as member of the International Honor Society of Phi Kappa Phi, while last March, he was given the Academic Excellence in the Biological Sciences Award by the Phi Sigma Biological Sciences Honor Society Alpha Chi Chapter.
Under the supervision of Prof. Annalee S. Hadsall, he worked on his undergraduate thesis titled "Morphological Characterization of Selected Bamboo Species (Poaceae: Bambusoideae) in the Philippines at Post-edible Juvenile and Near-mature Stages," which is pioneering in the field of study.
A native of Silang, Cavite, Glen is the eldest of two children born to Alberto Castillo Anarna and Gina Rosa Anarna. He finished elementary at Pulong Bunga Elementary School as salutatorian while high school at Cavite Institute as valedictorian. He was a choir member for four years during high school.
Aside from being excellent academically, Glen was also an active member of his three organizations in UPLB, one of which is the UPLB Grange Association. This academic year, 2016-2017, he served as Chapiter of Academics (Academic Committee Head) of UP Ecology and Systematics Major Students Society (UP Ecosystemss) and president of PHYTOS: The UPLB Plant Biological Society.
Glen qualified for the Doctor of Medicine program at UP College of Medicine. According to him, he is planning to specialize in dermatology due to practical reasons and because he wants to face the world with confidence. However, he is still open to other fields of specialization. He is also planning to pursue community medicine so that he can go back to his barrio and establish a health center for the people there.
When asked how he describes his stay in UPLB, Glen said, "My stay in UPLB can be described as a mixture of all emotions. I was emotionally and mentally tested by the university. However, I can say that these experiences molded me into who I am right now – a person who is there to lend a hand to other people. I entered as a blank book and UP wrote stories in me, stories that I can say are for keeps."
By Joseph G. Campang