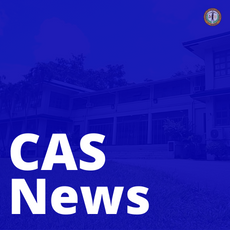 UPLB-Institute of Chemistry's Month-long
39th Anniversary Celebration as NCOE
The UPLB-Institute of Chemistry (IC) celebrated its 39th anniversary as a National Center of Excellence (NCOE) in the Basic Sciences with the theme, "Retrosynthesis: Recognizing Valuable Contributions and Reconnecting Reliable Interactions." It was a month-long celebration that consisted of three events: 1) the webinar entitled "Career Path Talk" by the research group of Dr. Mae Joanne Aguila last March 31, 2022; 2) IC Alumni Talks and Honoring of IC Retirees followed by the Recognition of IC Outstanding Students last April 11, 2022; and 3) the webinar "HPLC: Principles & Application in Food Analysis" organized by the Analytical and Environmental Chemistry Division (AECD-IC) in cooperation with Shimadzu Philippines last April 18, 2022.
In these three separate events held through Zoom, the Institute of Chemistry aimed to highlight its efforts and success in producing high-quality and globally competitive graduates in their chosen field of expertise. The NCOE celebration was meant to inspire and pique students' interest in pursuing the different and related fields of chemistry.
The IC invited chemists as speakers, who except for Dr. Kevin Anthony Sison, are its alumni. Each one of them shared their professional, academic, and personal accomplishments in chemistry and related fields with emphasis on how IC contributed to their being where they are now. The speakers were: Ms. Michelle Bincolado, Director of Quantum Review Center; Ms. Pauline Angelic Roxas, Environmental Program Manager at Landbank of the Philippines; Dr. Rosalina M. Lapitan, former Head of the Research and Development Division, Philippine Carabao Center; Dr. Jeffrey C. Bunquin, Founder and President of the Filipino Science Hub; Dr. Monrey Isaiah C. Mancilla, Head of the DOH National Center for Disease Prevention and Control in Bicol; and Ms. Elaine P. De Velez, CEO and Co-founder of Frontlearners, Inc. The webinar on food analysis had an IC faculty member, Dr. Sheryl Lozel B. Arreola, and Ms. Lyka V. Monserrat of Shimadzu Philippines, as speakers.
IC also thanked and honored its retired faculty members, namely, Dr. Norma N. Fajardo, Dr. Hidelisa P. Hernandez, Dr. Milagros M. Peralta, Dr. Evelyn B. Rodriquez, Dr. Myrna S. Rodriguez, Assoc. Prof. Josefina L. Solivas, and Dr. Teofila DC. Villar as well as its retired administrative personnel, namely, Mrs. Emma G. Amatorio, Mr. Tirso L. Olvida, Mr. Martin C. Sumague, and Mrs. Felicitas DR. Valencia. The achievements of its honor students for the period 2nd Semester, AY 2017-2018 up to the 1st Semester, AY 2021-2022 were also recognized.
Indeed, the celebration of the 39th anniversary of the Institute of Chemistry as a National Center of Excellence in the Basic Sciences was able to showcase its 39 years of fruitful existence through the contributions of its faculty and staff, and the accomplishments of its alumni here and abroad.
The Instiute posts updates on its website at ic.uplb.edu.ph, and on its Facebook page (IC-UPLB).
— RF Kangleon