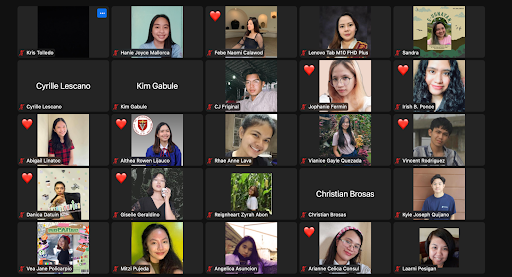 UPLB Comm 10 GE Conversation tackles
mis- and disinformation
Timely and highly relevant – this was how participants described the recently concluded UPLB Comm 10 General Education (GE) Conversation, with the theme "Harnessing intercultural competence in political engagements in the time of mis- and disinformation." Organized by the Comm 10 Committee, along with the Communication Division of the Department of Humanities, the GE Conversation was held virtually on March 28, 2022, 9AM to 12NN, and attended by more than 300 students and teachers.
In her opening remarks, Dr. Ma. Stella C. Tirol, Dean of the College of Development Communication emphasized the role of the UP GE in instilling a sense of cultural and historical identity. Assoc. Prof. Jerry Yapo, Member-at-large of Arts and Humanities and COMM10 Course Proponent, said that this webinar is very timely because the challenge this election is to discern candidates worthy enough to be measured in two metrics: track record and integrity.
Significant communication discourses were shared with the public, starting off with the talk by Asst. Professor Charles Erize P. Ladia from the Department of Speech Communication and Theater Art in UP Diliman. The driving questions in his talk were "How do we use rhetoric and intercultural communication in political engagements on social media?" and "How do we maximize our acts of citizenships in reclaiming online spaces for public discourse?" Asst. Prof. Ladia delved on the affordances and constraints of the five media platforms (Facebook, Twitter, Instagram, YouTube, and TikTok) seen to have a big impact on our May 2022 national election.
For the second talk, the crucial role of intercultural competence as a rhetorical act was highlighted by Dr. Nimrod L. Delante, a Senior Lecturer from James Cook University Singapore. He asserted that intercultural competence is a rhetorical power that can help us engage people in meaningful discussions, so voters can make informed decisions in this election. Since fake news can also take a rhetorical form, Dr. Delante emphasized the need for education.
Dr. Jason Vincent A. Cabanes, Professor of Communication and Research Fellow from De La Salle University Manila, shared a very interesting talk on the topic "Racially tinged COVID-19 digital disinformation and inter-Asian racism in a postcolonial city." He described the presence of an imaginative dimension in digital information characterized by the use of "deep stories" and emotional backstory to support false claims; and the presence of peddlers of disinformation study and its use against intended audiences. Dr. Cabanes forwarded the idea of deep diving into social narratives.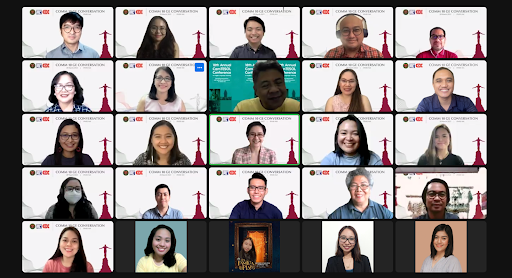 The question and answer part of the webinar became quite illuminating because it revealed the shared dilemma faced by the voters today. Questions raised included how to combat misinformation given that social media apps make use of an algorithm that exposes users to previously consumed topics, thereby lessening venues for dialogue and reflection; whether or not to regulate social media considering the proliferation of fake news; improving the Philippine educational system so students may be equipped to fight mis- and disinformation, among others.
Dr. Mabini DG. Dizon, a COMM 10 faculty member, gave an insightful synthesis of the points raised and discussed during the webinar. She went on to emphasize the need for teachers to encourage students to take critical action, not only for political engagement but for all aspects of their lives.
In her closing remarks, Dr. Leonora Fajutagana, Chair of the Department of Humanities, strongly asserted that showing up in conversations like this is a proof of our commitment to the values of GE and of democracy. She emphasized that this election is arguably the most critical in our nation's history, and doing nothing at this critical juncture is not an option.
— AK de Jesus