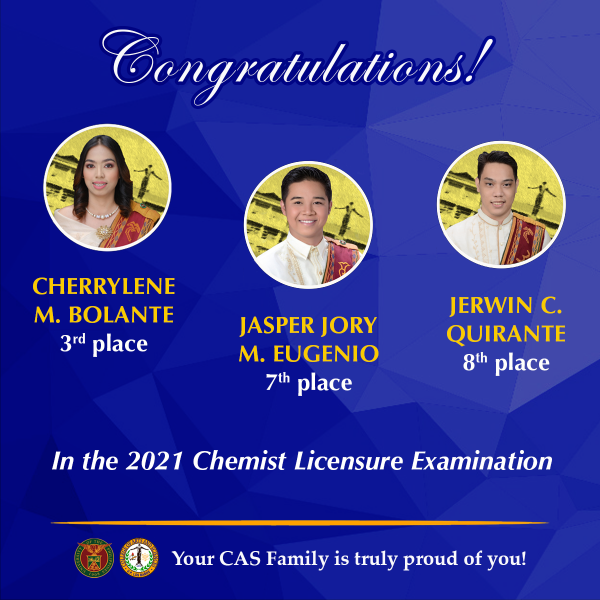 UPLB achieves 100% passing rate in Chemist and
Chemical Technician Licensure Exam
The University of the Philippines Los Baños (UPLB) attains 100% passing rate in the October 2021 Chemist Licensure Examination and Chemical Technician Licensure Examination. The Professional Regulation Commission (PRC) announced that UPLB took the first spot as top performing school as 8 out of 8 passed the Chemist Licensure examination and 43 out of 43 passed the Chemical Technician Licensure Examination.
In addition, several UPLB students topped the list. For Chemist Licensure exam, Cherrylene Bolante earned third place (85.85%); Jasper Jory Eugenio took seventh place (84.80%); and following him at eight place is Jerwin Quirante (84.25%).
For Chemical Technician Licensure exam, the following students belonged to the top ten: Patrick Aaron Gonzaga and Chester Dayao – Top 6 (89.00%), Danica Mara Gayares – Top 7 (88.50%), Mark Julius Casal, Angela Mae Concepcion, Jaren Tulipan, and Keith Danielle Dela Cruz – Top 8 (88.00%), Arvee Jae Dimaculangan, Joshua Ryan Guadines, and Kathleen Lou Tapang – Top 9 (87.50%), and Nicole Leal – Top 10 (87.00%).
This year's licensure examination for chemists has the lowest passing rate (36.31%) in the last ten years, with only 134 passers out of 369 takers.
— RP Parakikay