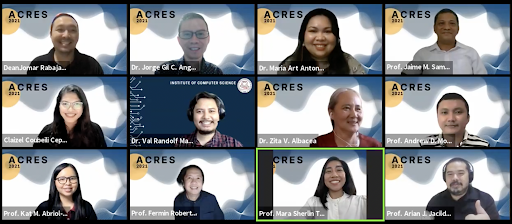 CINTERLABS hosts its first ACRES
The Computational Interdisciplinary Research Labs (CINTERLABS) held its first virtual Applied Computational Sciences Research Symposium (ACRES 2021) last September 24. The goal of the event is to bring the researchers and students together from the broad field of applied computational sciences. The symposium was headed by Prof. Jaime M. Samaniego as the Organizing Committee Chair and Dr. Maria Art Antonette D. Clariño as the Program Committee Chair. Both of them are from the Institute of Computer Science (ICS).
The first plenary speaker was Dr. Recardo del Rosario who delivered a talk on computational biology. He is a Senior Computational Biologist at Stanley Center for Psychiatric Research at the Broad Institute of MIT and Harvard. He obtained his PhD in Applied Mathematics from North Carolina State University. He is also a former Associate Professor at the Department of Mathematics, University of the Philippines Diliman. The second plenary speaker was Dr. Rafaelita Albada who talked about the National Artificial Intelligence Roadmap and Industry 4.0 in the Philippines. She is the Undersecretary for Competitiveness and Innovation of the Department of Trade and Industry (DTI). Dr. Albada leads the DTI's initiative for the Fourth Industrial Revolution and digital transformation.
Researchers and students from different fields of computational sciences attended the event via Zoom. The event was also live-streamed through the ITC Facebook page. Overall, there were nine oral presentations and three scientific posters on applied computational sciences. ACRES 2021 welcomes research papers from the fields of Agricultural and Environmental Informatics, Bioinformatics and Computational Biology, Computational Algebra and Geometry, Computational Physics, Human-Computer Interaction, Mathematical Modeling and Simulation, Statistical Computing and Data Science, Artificial Intelligence and Machine Learning, Combinatorial Algorithms and Optimization, Computational Chemistry, Drone and Robot Modelling, Image, Audio and Video Processing, Parallel and Distributed Computing and other allied fields.
True to its goal, the event ended with the researchers being able to exchange contact information for the possibility of interdisciplinary collaboration. CINTERLABS is one of the interdisciplinary studies centers of the University. This center is composed of faculties and research staff from Institute of Biological Sciences, Institute of Chemistry, Institute of Computer Science, Institute of Statistics, Institute of Mathematical Science and Physics, Office of the Vice Chancellor for Research and Extension, and Philippine Genome Center – Agriculture.
— AC Guiam