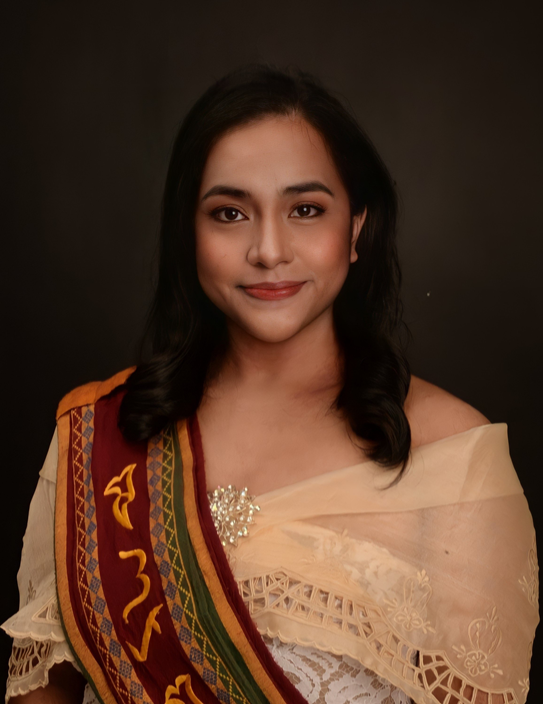 One rainy day during the last week of June 2021, Kyla Marie Pauig, this year's CAS valedictorian, dropped by UPLB for the usual pre-graduation errands. She made sure to take pictures of the campus that, because of the pandemic, she saw very little of during her senior year. She photographed her old stomping grounds: the Old Humanities Building, the CAS Annexes, the Main Library, to name a few. It seemed like an ordinary way for a graduating student to spend the afternoon.
Despite the difficulties of the pandemic year, Ms. Pauig says she still thinks fondly of her life as a BA Philosophy major, which she describes as a "humbling journey." This may sound like a strange assessment from the first ever CAS valedictorian to come from the BA Philosophy program, but her story is anything but ordinary. Ms. Pauig, or "Ky" to her friends, has some unique stories to share about her journey to the top of the class.
Origins
Ms. Pauig, who graduates with a GWA of 1.3687 (Magna Cum Laude) this August, took the Accountancy and Business Management strand in senior high, which is an unusual origin for a BA Philosophy major. However, she shares that she found her high-school subject on Business Ethics so interesting that she decided to take a humanities course in college.
As a BA Philosophy major, Ky notes that the greatest challenge she faced in UPLB was "being away from everything" she ever knew for the previous 17 years of her life. She came from a self-described "incredibly religious" school and family, which made her initiation to the discipline of philosophy—a constant confrontation with our deeply held beliefs—a difficult experience. Nevertheless, she says that accepting that she knew relatively little, and learning to "unlearn" were some of the most important lessons she gained.
She says that the most enjoyable aspect of her study of philosophy were "the philosophical discussions that emerged from thought-provoking lectures or even mundane topics." She describes these discussions as exchanges that widened her view on subjects she never thought of before.
The part that she least liked about her philosophical studies was reading impenetrable or "unreadable" primary texts written by philosophers. Some philosophers, such as Kant and Hegel, are notorious for weaving deeply convoluted lines of text. However, she clarifies that she found it fulfilling to finally be able to decipher and understand the texts through rigorous study and research of supplementary materials.
"Patron of All GWAs"
Despite her initial struggles, Ky eventually gained a firm foothold on her studies. She notes that "the moment I started to write good papers was the exact moment I believed I had genuinely important things to say." With her newfound confidence and purpose, she thrived in the BAPHLO program. This development eventually became obvious in her high grades.
"In the org we actually have a nickname for her… 'Patron of all GWAs' because of the excellence she's been showcasing ever since we knew her," says Christianne Sawit, one of Ms. Pauig's orgmates in the Philosophical Society of UPLB (Philosoc UPLB).
Her excellent performance also caught the attention of her professors. "It's not common to see genuine earnestness in philosophy classes these recent years, but Kyla always espoused this," says Ms. Ma. Cassandra Teodosio, who was Ms. Pauig's instructor in several philosophy subjects.
Ms. Pauig also exhibited a consistent "passion for discourse and willingness to learn" and was "always open to the possibility that she may be wrong," notes Ms. Keisha Abog, an instructor from the Philosophy Division.
Other professors also note that it was a "delight" having Ms. Pauig in their classes. Prof. Krissah Marga Taganas, an assistant professor in philosophy, describes Ms. Pauig as "always on top of her game, exhibited full commitment to her academics, and a good critical thinker."
Ky's academic interests were varied, but she focused on feminist philosophy, socio-political philosophy, and epistemology. Her undergraduate thesis, "Internet Malevolence: Examining the Epistemically Vicious in the Virtual Sphere," examined how individuals and organizations exhibit the intellectual vice of epistemic malevolence online thru the spread of fake news and false information.
Leading an Academic Organization
Not content on simply maximizing her academics, Ms. Pauig became the Chief Archon of the Philosoc UPLB during the 2020-2021 academic year. She claims to have taken on the task to ensure that her academic "family" would be taken care of during these difficult times. To say that she was facing a tall order—leading an academic organization during a pandemic year—is an understatement. Nevertheless, the organization under her leadership delivered.
In spite of the limitations of the constantly changing quarantine classifications, the organization was able to produce an abundance of online symposia, seminars, and discussions on a wide range of topics that include the role of the Filipino youth in the upcoming elections, online education, rights of transsexuals, press freedom, and rape culture.
Just last May, the Philosoc UPLB organized an undergraduate conference in philosophy, one of the first of its kind in UPLB. Philosophy majors from different universities presented their papers in the online conference.
Joshua Manilay, a member of Philosoc UPLB, describes Ms. Pauig as "insightful and helpful," and this is seen in "how she has helped the organization grow."
Ryan Fabreag, another orgmate, characterizes Ms. Pauig as "organized, passionate, and responsible," and able to balance being strict with compassion.
Ms. Pauig's academics and extra-curricular activities flourished despite the limitations of the pandemic. She credits her high-school alma mater, St. Paul College of Pasig, for training her "time management and task prioritization skills." However, like any true-blooded philosophy major, she is quick to clarify the context of her achievements. She notes that she is "privileged" to be able to give "undivided focus" to her studies and other duties because her "obligations are not as heavy as others."
Ms. Pauig says that her achievements are also due to the company she keeps. She notes that she has a tendency to "gravitate" towards ambitious,
brilliant, and unique individuals. She describes her family as also composed of academic achievers. These individuals helped motivate her to strive for academic excellence.
For Future Philo Majors
Ky also has some insights for individuals planning to study philosophy. She says the course has some undeserved connotations, but "there are great skills to be honed and opportunities to explore" in philosophy. In a pragmatic light, she asserts that "being able to organize, synthesize, adapt, successfully convey your thoughts to other people, and apply critical thinking" are highly marketable skills.
However, on a more philosophical level, Ms. Pauig calls for students to "treat education as an end in itself." She asserts that we have lost track of what it means to be "educated" because of problems in our educational system. She says that these systemic problems, which include the "digital divide" and the high cost of education, were enhanced and exposed by the pandemic. Only when these problems are resolved, Ms. Pauig notes, can we begin to "reconstruct the education system" and consider education not just as a means to an end.
Ms. Pauig plans to go to law school after graduation. She says it has been her "lifelong goal" to be a human rights lawyer and defend "the country's oppressed sectors." She credits the "purposeful and passionate activists" she met and "fought alongside with" in UPLB for strengthening her resolve to become a defender of human rights.
As Ky draws to a close her stay in UPLB, she can look back and see it as an unusual narrative on so many levels and aspects. Her batch, 2017, is the last pre-K-12 cohort. Her senior year was mostly spent away from campus due to the pandemic. She is a philosophy major leading a class composed mainly of science graduates in a predominantly and historically scientific university. She discovered that some of the best "learnings" she had were "unlearnings." The future that awaits her may be no less unique and fascinating.
— NM Masakayan