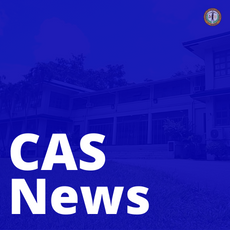 Ms. Marina G. Lansigan, CAS-DO
If there are two words that can best describe Mrs. Marina G. Lansigan, or Tita Ynnah to her colleagues, these would be "beautiful soul". One may ask every person in the CAS Dean's Office and College Secretary's Office, and even those from other units of the University, and they would certainly tell a tale or two about how Tita Ynnah has touched their lives in her own little ways. She is a compassionate and generous person in nature, that is why she is well-loved and respected by her colleagues, willing to extend assistance when necessary. In her 36 years of service, Tita Ynnah has been consistent in making work considerably lighter, not just because she is easy to get along with and exudes a happy vibe, but also because she treats her officemates as family. Her dedication to her work and to the people she works with is truly remarkable.
Mrs. Lansigan is the wife of Dr. Felino P. Lansigan, the current Dean of the College of Arts and Sciences. ∎
— AT Fajardo
---
Dr. Ayolani B. De Lara, IBS
AYOLANI VILLAS DE LARA. Professor. Educator. Mentor. Curator. Malacologist. Friend. Family.
Professor De Lara or Ma'am Lani started her career with the then Department of Zoology on June 1, 1981. In her 37 years of service, she made a very strong impact on the lives of the students, faculty and staff of the CAS, in general, and the Zoology and Wildlife group in particular.
As a teacher, who always come to class well prepared, she is known to have used her connections to take photomicrographs of the more comprehensive collection in her former unit, during her first year of teaching assigned to handle the course in Histology (while waiting for the ordered slides). She has always been resourceful, making sure that her students get the best learning materials, and a no-nonsense teacher who was fair despite heated arguments perhaps but would not take these discussions personally.
She has actively participated in enhancing the Zoology programs through course proposals and inputs in revising courses. The field of her specialization, Malacology or the study of Molluscs, has gained recognition through her lectures in local and international conferences. Just last month, she gave a talk on her "Fave Kuhol" at the 2nd Basic Research Symposium of the National Research Council of the Philippines –always with characteristic wit and humor.
A CAS Outstanding Senior Faculty and IBS Service awardee, Dr. De Lara likewise received several Fellowships, Grants and Professorial Chair Awards. Her Textbook Writing Grant from the UP System led to the publication of her comprehensive Laboratory Manual in Animal Histology. She was also instrumental in the building of a bigger and updated Malacology Laboratory at the Institute of Biological Sciences (IBS).
Committed to use knowledge and information to fight for basic rights, Ma'am Lani came to be fondly called "attorney" by some of the IBS faculty members due to being well-versed in the rules and regulations of the university, that helped facilitate decisions in academic personnel committee matters as well as in implementing policies.
Dr. De Lara is a member of the Phi Sigma Honor Society for Biological Sciences and a member of several professional organizations, notable is her being one of the founding members of The Philippine Society for Cell Biology and the Philippine Society for Developmental Biology. She also served as President of the International Society for Medical and Applied Malacology.∎
DAP Hernandez
---
AProf. Celia B. De La Viña, IBS
Professor Celia Dela Viña or Ma'am Cel started her career in the University in 1977. She values family so much that she decided to be a fulltime mother in 1985-1997 and went back to teaching afterward.
A passionate and compassionate teacher, she always incorporate her artistic inclination in class. She draws awesome illustrations on the board that always wow the students. She also memorizes the name and nicknames of her students and remembers them even after the term.
In her 28 years of teaching, Dr. Dela Viña touched lives of students, faculty and staff of CAS and Genetics and Molecular Biology Division. She does not fail to show her concern and care for others. As a colleague, she is always ready to lend a hand, ears, and even a shoulder to cry on. Her motherly love, coupled with her smart mind and wit, makes her a millennial tita.
As her nickname hints, "Ma'am Cel" is fascinated with cells and chromosomes. She co-authored some laboratory manuals used in cytology and cytogenetics classes. Some of her researches focused on cytological and cytogenetic studies of organisms like the Philippine indigenous orchids, or selected native and endemic Philippine freshwater fishes. She also reviewed several papers on cytology, to be submitted in prestigious journals. Though her first love, she says, is looking for dividing cells under the microscope, she also dabbles in molecular biology. She engaged in a research about the polymorphism of the obesity gene in pigs.
Professor Dela Viña received several awards in teaching, namely: UPLB Outstanding Teacher Award in the Biological Sciences in 2013; CASAA's Distinguished Alumna for Teaching in 2005; and Special Citation on Teaching from the Institute of Biological Sciences in 2009.
She is a member of several professional organizations, such as the National Society for the Promotion of Genetics, Inc., National Research Council of the Philippines, and Biology Teachers Association (UPLB Chapter) serving as the Treasurer since 2009. ∎
— RM Alcabedos
---
Ms. Myrna V. Marasigan, IBS
Myrna served the Plant Biology Division, IBS, CAS, UPLB, for more than three decades in various capacities. She served for ten years as Research Aide in different projects in the Phycology laboratory, and the rest of the period was devoted as Laboratory Aide in the Plant Biology Division. In all these years, we have noted the compassion and love of Myrna to her work. She always came early enough to be on time for work. She seldom went on leave.
While she was connected in the Phycology Laboratory, she served as a bridge between the researchers/laborers and the project leaders that helped moved the projects to go on smoothly and fast. For example, when the salaries of the staff members were delayed, she voluntarily loaned them some money, she also did all the paper works not only administrative papers but also research papers, and that was still the time when typewriters were the mode of printing characters on paper. And typewriters then did not have any modes for saving files except by retyping them.
However, Myrna was very willing to learn new things, she transitioned from manual typewriters to electric ones and finally to computers using different programs. She is very quiet and soft spoken and that is how she treated others, too. She was sensitive to the feelings of others.
Myrna is very honest in words and deeds. She managed the funds of the Phycology Laboratory for so many years without any losses.
Myrna served the Plant Biology Division with great efficiency because she made sure that paper works were done much ahead of time . At the same time , she followed strict rules, like nobody was allowed to insert one's usb in the division's computers for fear of getting viruses and that will eventually incapacitate the flow of her work.
With all these contributions of Mrs. Myrna V. Marasigan in her various capacities as a staff member of the Plant Biology Division, we really miss her but we hope for the best in her new adventures in her retired life. ∎
— MRM Goss
---
Ms. Celia B. Paleg, IBS
Ms. Celia I. Paleg retired on July 31, 2018 as Administrative Aide IV. She has served the Institute of Biological Sciences (IBS) for 19 years. Prior to her appointment at IBS, she worked as Clerk at the Main Library of UP Diliman for 15 years. The IBS faculty and Staff honors her for providing vital support in the proper functioning and day-to-day operations of the Institute. She has shown honesty, integrity and value for work throughout her years of service. The Institute is forever grateful for her valuable contribution. ∎
— LC Villegas
---
Dr. Roberto S. Clemente, IMSP
Roberto S. Clemente holds a PhD in Agro-Environmental Engineering from McGil University, Master in Engineering (Soil and Water Engineering) from the Asian Institute of Technology and a Bachelor's degree in Agricultural Engineering from UP Los Baños. He has co-authored more than 40 articles published in refereed journals, 30 papers in conference proceedings, and 15 project (technical) reports.
Dr. Clemente has served the University through various UP units. He joined the Institute of Mathematical Sciences and Physics in October 2014. ∎
— CMN Piñol
---
Mr. Rodrigo S. Aguirre, DHK
RODRIGO SASE AGUIRRE or "Ude" as his colleagues fondly called him. He is a native of Batong Malake, Los Banos, Laguna. He was employed at the, then, Department of Physical Education in 1978 as Caretaker of Lawn Tennis Court (Substitute). He became permanent in 1984 and promoted to Utility Worker II in 1989. He is married to Erlinda Hernandez and blessed with three (3) children.
As an employee, "Mang Ude" demonstrated efficiency and the act of volunteerism in his daily tasks. He can work even without close supervision from his supervisor and extended his time beyond his tour of duty to serve the Varsity during training days and also serve the Alumni, Senior Citizens, and Faculty and Staff of the University.
Furthermore, "Mang Ude" is also a Lawn Tennis enthusiast and he competes for the University. ∎
VB Marilag
---
Mr. Filomeno Del Mundo, DHK
FILOMENO GUEVARRA DEL MUNDO, started in, then Department of Physical Education as Laborer (permanent) on November 3, 1975. He became an Administrative Aide III in January 1, 2004. A native of San Gregoria, Malvar, Batangas and married to Virginia T. Macandili and blessed with five (5) children.
As an employee, "Mang Mino", as we commonly called in the unit, was very supportive in different activities of the Department. He demonstrated efficiency and the act of volunteerism in his daily tasks. He can work even without close supervision from his supervisor and extended his time beyond his tour of duty to serve as support staff. ∎
— VB Marilag
---
Mr. Pablito V. Narvaez, UPRHS
Pablito V. Narvaez served UP Rural High School (UPRHS) as part of its administrative staff for over 40 years. Kuya Lito, as he is known to the UPRHS family, made sure to fulfill his maintenance responsibilities to help keep the school a safe and conducive learning environment. He constantly earned praise from his co-workers for being dependable and for exerting effort above and beyond the call of duty whenever necessary.
Aside from his diligence, Kuya Lito's kindness is also to be admired. He patiently listened to his workmates, and he was able to establish a good relationship with them. Prof. Liza C. Carascal, UPRHS principal and Kuya Lito's long-time colleague, describes him as someone who works to the best of his ability and who does not speak ill of others. She affirms that the UPRHS family is more than grateful for his invaluable service to the institution.
Kuya Lito's comrades at UPRHS also attest to his being a loving father. He persistently looked after the welfare of his children even when they had their own families. He plans to spend more time with his family, especially with his grandchildren, after his retirement. ∎
— GRB Briones
---
Mr. Eduardo SV. Buesing, IBS